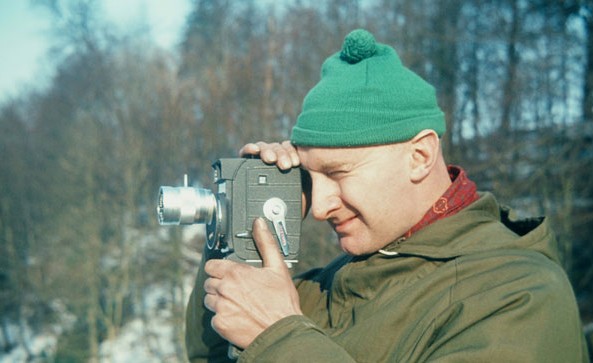 From March 1st 2012 Teacake will be exhibiting a special collection of photographs taken by the late Tom Culley. Split over two venues, this installation of large-scale images offers a glimpse into the varied past times of one man and his closest companions.
Discovered inadvertently, these images taken from a collection of over 5000 meticulously cherished slides portray life through the eyes of an accomplished amateur photographer. Always fascinated by the colourful antics of ordinary people enjoying extraordinary activities this perspective is both personal and insightful.
Only ever before seen as part of a good old-fashioned slide show theseare nostalgic, heart-warming and often-humorous portraits of life as it happened.
Tom's passion for photography was simple; his aim was to preserve the funniest, most charming, most special and most poignant moments in order to share them with his loved ones.
Now we are lucky enough to be able to share them with you in the form of 'Eggs no Soldiers'' at Common and ''A Pint of Mixed' at Port Street Beer House.
/ BIOGRAPHY
Born on the 17th August 1925, Thomas Culley attended St Peters School, Accrington. In 1939 he was apprenticed as a painter and decorator at Milton Fodens. Before joining the Royal Navy as an Able Seamen in the Gunnery Branch Battleship King George V in 1943. As part of the Pacific fleet he was present at the formal surrender of the Japanese in Tokyo Bay 1945.
Returning home, Tom joined the Lancashire County Fire Brigade and served as a Sub Officer for 30 years at Accrington Fire Station. He received the long service medal and good conduct medal in 1971 before retiring in 1980. As a keen fisherman and model boat enthusiast Tom enjoyed a full itinerary of hobbies including painting, drawing and shooting cine films. An avid reader, he also had an extensive knowledge of local history. Tom died at the age of 84 in Lancashire on the 8th April 2010.
Teacake presents
EGGS NO SOLDIERS & other unseen moments captured by the late Tom Culley
Opening night – Thursday 1st March 2012 – 6.00pm onwards
@ Common, Edge Street, Manchester, M4 1HW
Exhibition continues – 2nd March 2012 – Late July 2012
followed by :
A PINT OF MIXED & other unseen moments captured by the late Tom Culley
Opening night – Thursday 1st March 2012 – 7.30pm onwards
@ Port Street Beer House, Port Street, Manchester, M1 2EQ
Exhibition continues – 2nd March 2012 – 2013
All prints are for sale – please enquire behind the bar or drop us an email – cheers!