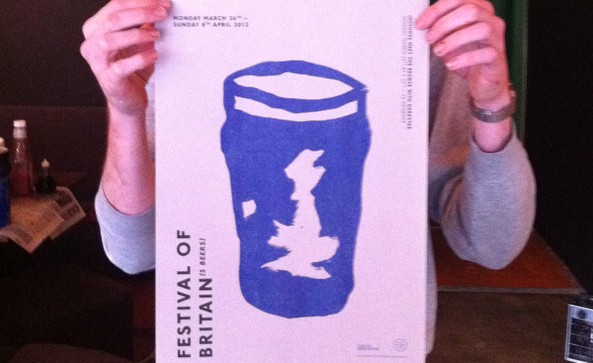 The end of this month sees our first festival of the year! We have taken on board some of your suggestions following our previous blog piece and we are proud to present a selection of Britain's finest beers.
Update…… 15th March 2012
We thought we would entice you a little more for our forthcoming Festival of Britain(s beers). This festival is a must for a beer lover and it's really exciting for us too. To have an entire Birtish tap takeover on our bar is something to be really proud of, because so many great beers are being brewed on these shores by amazingly talented people.
Here are four beers we are getting really excited about, these will be on during the festival period:
Summerwine Maelstrom
New permanent Double IPA, 9% in volume this is lining up to be an impressive beer. If Diablo is anything to go by it's going to be epic.
Kernel Motueka IPA
Keg Kernel does not come around very often, we have had a couple but they have kindly done us some more. Motueka is a dual purpose hop variety from New Zealand and one of our favourites, bred from noble this hop imparts flavours of tropical fruit & spice.
Lovibonds Dirty 69
Were lucky to get this one too, a black version of the 69 IPA. Brewed with a nod to tradition but with modern techniques and hop choice. Hopped with Cascade and Chinook then dry hopped using the Hopinator.
Camden USA Hells
Brewed as a limited release, we have the only keg outside of London. Made with all US hops this unfiltered lager is not to be missed. Star spangled, hopped to hells.
/ UPDATED stock list :
/ CASK
Darkstar
Imp Stout
Black Coffee Pils
6 Hop
Revelation
Juniper Rye
2009 Critical Mass
Thornbridge
Galaxia
Jaipur Dry Hopped (two variants)
Broc
All Magic Rock core range
Gadds Kent IPA
Kernel Export
Red Willow Faithless XI
plus MANY more….
/ KEG
Magic Rock
8 Ball
Dark Arts
Rapture
Cannonball
Human Cannonball
Thornbridge
Raven
Steelmaker
Halycon
Chiron
Saison DuPort
Summerwine
Reaper
Mailstrom
Kernel
IPA Motueka
IPA Amarillo/Citra
Lovibonds
Henley Gold
Henley Dark
69
Dirty 69
Lager Boy
Camden
Helles
USA Hells
Ink
Wheat
Pale
Gadds South Pacific IPA
Darkstar Revelation
Brewdog Libertine Porter
Ilkley MJ Pale
The Festival of Britain(s Beers) launches on Monday 26th March with Darkstar / Meet The Brewer and continues until Sunday 8th April 2012.
Artwork by Steve Hockett.