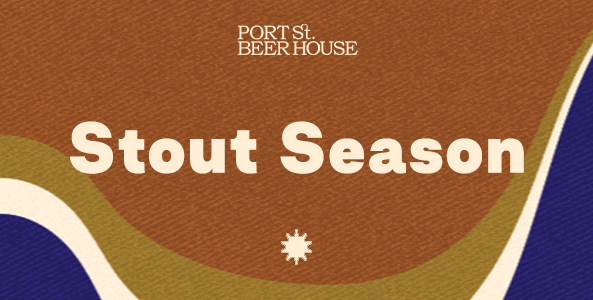 Free Entry
The nights are coming in, so we're rolling out the stouts: three of the biggest boys from our cellar. A trio of rare finds, all available in a flight – plus the best porters and imperials from our beer fridges.
LINE-UP
MAGIC ROCK X PSBH – COCO B WARE IMP STOUT W/ CARAMEL, CACAO NIB & COCONUT 10%
Collab for PSBHs 8th birthday. Last keg in existence. Single Woodford Reserve Bourbon Barrel Aged 10% Imperial Stout aged on coconut, caramel and cacao nibs. Originally released in Jan 2019, we've been cellar ageing this keg ever since.
SAUGATUCK – BLUEBERRY MAPLE STOUT 6%
A rich, sweet stout with classic malt characteristics with a bold, unique twist. This beer tastes like you crammed a fat stack of blueberry pancakes into a pint glass and smothered it with maple syrup.
SIREN X SALT – THE ABYSSAL ZONE BALTIC PORTER 10%
This beer is rich with flavour, slightly sweet, pitch black and heart-warmingly robust. The name is inspired by an almost-freezing depth of the ocean that remains in perpetual darkness.
CANS
GARAGE – PHONES / MIRRORS IMPERIAL STOUT 14.0% 750ML
A hefty Imperial Stout with a packed malt bill giving deep roasted and rich chocolate notes, providing the perfect platform for the huge addition of roasted hazelnuts.
LERVIG – TOASTED MAPLE STOUT (12%, 330ML)
An Imperial Stout brewed with Maple syrup, Vanilla lots of dark roasted toasty malts and a bit of lactose for the nishing touch.
MAGIC ROCK – BEARDED LADY IMPERIAL STOUT BLACK FOREST EDITION 10.5% 330ML
A rich, deep stout that combines six magical malts that work in harmony to deliver a smooth and sumptuous drinking experience. Powerful, robust and intriguing, this beer is packed with tart cherry, rich chocolate and vinous berry flavours, balanced with a creamy mouthfeel that will have you reaching for your space hopper before you know it.
MIKKELLER SAN DIEGO – BA TRAEBLOD MAPLE & COFFEE IMPERIAL STOUT 11.5% 750ML
Rich chocolate ganache in the forefront is supported by a warm bourbon spice. Incredible layers of complex cocoa, maple, toasted sweet breads, and coffee allow for a decadent treat.
POHJALA – HONEY LAKU IMPERIAL PORTER 10.5% 330ML
Honey, Liquorice, & Blackcurrant Imperial porter aged in Pedro Ximinez and Bourban Barrels
POMONA – THE POWER OF INDEPENDENT TRUCKING IMPERIAL CHOCOLATE, CHERRY AND COCONUT STOUT (12%, 440ML)
Beautifully balanced, this Imp Stout is delicious and satisfying. Drink independent and for the sake of all that is sacred… keep on ducking.
SIREN – ODYSSEY IMPERIAL STOUT 11.7% 375ML
A complex blend of flavours found in your coffee cup – fruity acidity, roasted chocolate, nuttiness and a rounded caramel and toffee finish. A small addition of Brazilian coffee from Anvil in Basingstoke accentuates the sweetness.
TRACK – MADE IN THE SHADE PORTER (5.6%, 375ML)
Aged robust porter in Pinot Noir barrels for 6 months & blended barrels together to produce this well rounded, smooth & mature beverage which boasts notes of slightly bitter warming cocoa, vanilla, coconut & golden syrup.
WANDER BEYOND – EYE OF THE STORM IMPERIAL STOUT
Cleanly fermented to 12% whilst still delivering punchy coffee and sweet maple flavours on a sweet and chocolatey base beer, Eye Of The Storm is a sweet and rich treat.
Comments are closed.