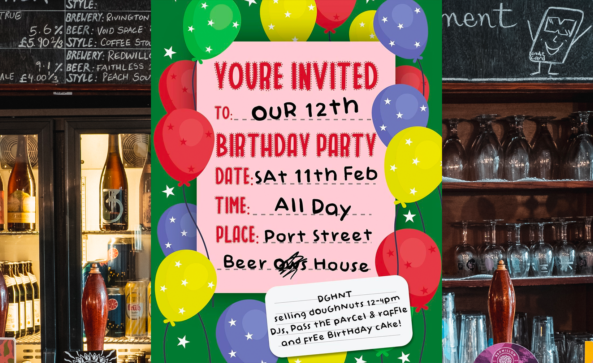 We are turning 12 on Sat 11th Feb and you are invited! 
With doughnuts from @dghntmcr, DJs, Pass the Parcel, free Birthday cake, and of course… Pints! Pints! And more pints! We'll also be doing a tap takeover – see below for that!
Plus if that wasn't enough, the chance to meet Guy Fieri in person! We haven't actually invited him, but he could be there. Seems pretty unlikely tbh but you never know!
–
Pomona Tap Takeover – 11th February
They might not have been with us since day dot, but we can't blame them for that: they didn't even exist. Still, there's no-one we'd sooner spend our 12th Birthday weekend with than the brilliant POMONA ISLAND!
If you don't know about Pomona by now… ah, there's no point explaining it. One of the city's most feted breweries of this millennium, and they've only just got going: they're going to be bringing an ELECTRIC, an INCREDIBLE, an UNBELIEVABLE SEVEN FIRST POURS to Port Street Beer House. We're in heaven.
Starting on the 11th, and going through until the end of our birthday weekend (or until they're finished, whichever comes first), we'll be pouring
KEG
IF I COULD TURN BACK TIME BA Imperial Stout Glenrothes aged *FIRST POUR*
IF I ONLY HAD THE TIME TO UNDERSTAND BA Imperial Stout Cognac aged *FIRST POUR*
IF I ONLY HAD A HAMMER BA Imperial Stout Pedro Ximinez aged
23RD OF LONELINESS Tropical Sour with Chamomile 6.1% *FIRST POUR*
MARIMBA RHYTHMS Pale 4.8% *FIRST POUR*
CHILD OF NATURE IPA 6.5% *FIRST POUR*
RIDDLE OF STEEL West Coast IPA 7.1% *FIRST POUR
THE RED IS STRONG, THE BLUE IS PURE Raspberry and Elderberry Sour IPA with Raspberry Leaves 6.5% HUBCAP DIAMOND STAR HALO DIPA 8%
CASK
CRUFFATIN Best Bitter 4.1%
Free entry, but we'll have to ask you to pay for the drinks, sorry about that: we've got a business to run. We hope you understand.
Comments are closed.