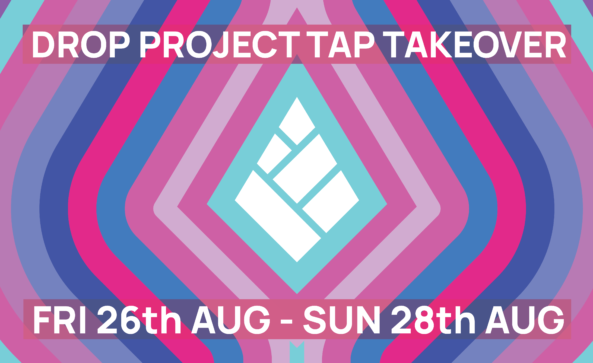 Pressure Drop are taking over our taps from Fri 26th to Sunday 28th August with 6 amazing keg lines and 1 beautiful cask line.
Petal – 5% Rhubarb and Hibiscus sour brewed with Bristol legends Left Handed Giant. Packed to the rafters with heaps of wonderfully thick, tart Rhubarb. Conditioned with Hibiscus tea to bring nice sweet and fruity notes but also complimenting the natural sharpness of the Rhubarb. It's a big bright red with all the things we love about sour beer. Perfect for the summer sunshine.

Voyage is their first ever Imperial Stout. Weighing in at 12%, it's the strongest beer they've ever made. Unashamedly boozy with hints of vanilla, coconut and black treacle. With Chinook as the bittering hop, the main players for this beer all come from the roasted barley, chocolate malt, caramalt and tonnes of oats to give thick, sweet Caramel and roasty notes on the nose and tongue. NO LACTOSE, ALL GRAIN. 100% vegan friendly.
Dipped – A 4.8% classic take on the style.
Packed full of Amarillo, Centennial, Chinook and Ekuanot. Its a super refreshing, clean and crisp IPA.
Drop Project Brewing & North Brewing Co. Link-Up Cold IPA– This 5.8% Col IPA was brewed in drop projects Mitcham home with Leeds legends North Brewing, this is a really interesting and different beer. A little history on this beer style, don't mistake Cold IPAs for India Pale Lagers. Whereas IPL's depend on the lager yeast, moderate hops, and a crisp finish with straw-to-gold colour, Cold IPAs aren't afraid to unleash the hops and crank up the ABV with a crystal-clear clarity. To top off these chilly IPAs, look to adding new world hop varieties rather than the traditional old world hops you'd see in everyday lagers. Its crispy, clean, and dry with a wallop of forward zesty hops.
Straight up Amarillo. Percentage TBC: Drop projects Single hop project, this time using the intense hop, Amarillo. Distinct flowery, spicy, tropical; citrus-like with qualities of orange and lemon, like Cascade but much stronger.
Drop Project Haze NEIPA: This 4.6% NEIPA is a collaboration with the culture powerhouse that is Tate. Built upon ideas we have had on trying to make the best and most flavoursome lower abv beers they can produce. Mosaic giving those stone fruit flavours, Citra for a bit of bitterness and balance, Azzaca for those tropical hits and then finished off with the addition of Yuzu juice for that nice mix of tangy citrus fruits. It's an all-out party of flavours to give punch and easy drinkability.

CASK

Sparkler: A beautiful Cask Conditioned Pale in Collaboration with local trad heroes Wimbledon Brewery. A 3.8% Pale. Full of super fresh hops; Centennial, Simcoe & Amarillo. Easy drinking classic cask beer.
Comments are closed.