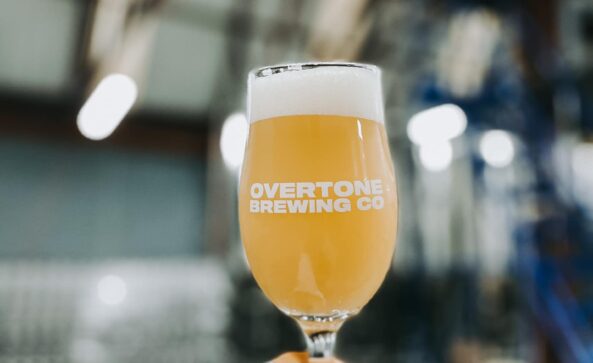 We've invited one of Glasgow's finest, Overtone, to takeover our guest taps for the weekend. Started only back in 2018, they've fast made waves in the craft beer scene with some of the best recent examples of British takes on American classics. Creating fresh new classics every month in their brewery on the banks of the river Clyde, we've asked them to send over 4 of their latest and finest for the discerning drinkers of Port Street Beer House to sup on all week long, from Thursday 16th to Wednesday 22nd September.
About Overtone:
THE BREWERS
The head brewer Dan Miller, all the way from New Hampshire – brings with him a knowledge of American style beers. This has allowed us to consistently produce aware winning New England IPAs that loved by craft beer fans nationwide. Charlie, the assistant brewer, also comes with an array of talents, previously brewing for a local Scottish brewery and being an avid home brewer
​
THE BEERS
With the aim of ensuring customers enjoy our beer as fresh as possible, Overtone are a fully fluid brewery meaning we keep brewing new beers every month. Using nothing more than high quality hops, yeast, and malt, they still manage to create all-natural, unfiltered, and unfined beers bursting with flavour.
​
We'll be serving up…
Third Session IPA 4.7%
An easy drinking session IPA with a smooth, malty backbone. Fresh, tropical aromas with some undertones of resin and citrus fruits on the tongue, enjoyed by a slight spice at the end
Citra Mo Galaxy IPA 6%
We go back to experimenting with the classic hop combo series, this time bringing one of our favourite hops to the party, Galaxy! Soft and juicy mouthfeel with bright passion fruit and citrus flavours and some mellow grassy notes.
A Real Peach Peach, Mango & Redcurrant Smoothie Sour 7%
If it's not already obvious, this heavily fruited smoothie style sour is brewed with a serious amount of juicy peaches for those delicate sweet flavours. We've also added some ripe mango and redcurrants to add an extra balance of tropical and tartness.
Captain I Am Fading DDH DIPA 8%
A smooth DDH DIPA balanced with Cashmere, Citra and El Dorado hops. Enjoy flavours of honeydew melon, pineapple, juicy peach and hints of apple.
Flights will be available – free in, and all the rest.
Comments are closed.