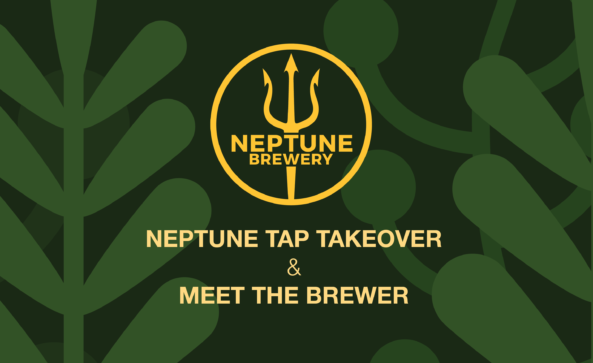 Liverpool's Neptune Brewery come to visit Port Street Beer House 21st July to the 24th to take over our taps. In addition, they'll be running a MEET THE BREWER event, including five of their favourite & freshest beers, plus be pairing them with slices from Nell's Pizza – all included.
Buy tickets here:
https://www.eventbrite.co.uk/e/381025215677
Here's what you'll be tasting –
Forecast Godiva 3.9% English Hopped Bitter
Pairing: Cheese & Onion Pie Nell's Pizza
Mosaic 4.5% Pale Ale
Pairing: Burrata Nell's Pizza
Seven Seas of Rye 6.1% Rye IPA
Pairing: Do You 'Roni Honey? Nell's Pizza
Water of Love 9% US Barley Wine
Pairing: Mushroom Nell's Pizza
On The Bounty 5.8% Chocolate & Coconut Stout
Pairing with Cookies & Cream Nell's Ice Cream Sandwich
In addition, you can upgrade to get some BARREL AGED POURS for an extra £3. Woof! Sherry and Rum Barrel-Aged versions of Water of Love 9% Barley Wine
Over the course of the Tap Takeover, here's what you can expect:
– Pouring 7 casks + 4 kegs of Neptune on the night, including some Barrel-Aged rarities
– Free raffle for a chance to win brewery prizes
– Neptune Spotify Tunes Takeover
– Meet the Team
Neptune Brewery has been brewing modern beers, inspired by tradition, since 2015 with passionate team, while being proudly independent. Their beers are naturally conditioned and all the "uns" – that's unfiltered, unpasteurised and unfined – ensuring the greatest flavour in each brew. It also means their beers are vegan friendly as they believe that everyone should be able to enjoy them.
They'll be joining us upstairs in the saloon at Port Street Beer House for a tasting & food pairing, with Nell's Pizza bringing over some of their favourite 'za to match with Neptune's best brews.
Comments are closed.