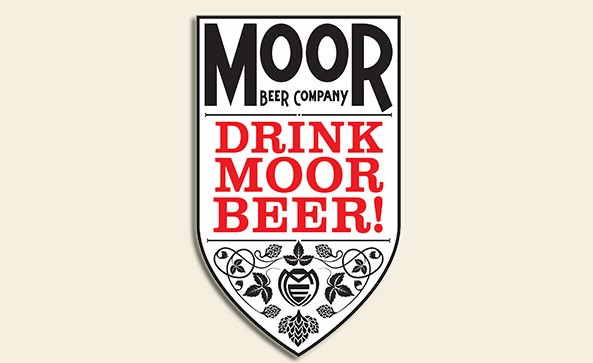 Californian Justin Hawke brews a boldly flavoured variety of modern classics that bring in the awards such as Nor'Hop, Hoppiness and Revival. Moor kicked off the unfined beer movement in the UK, with all beers being unfined & naturally hazy (and therefore vegan friendly).
In 2014 Moor expanded yet again, refurbishing a large site in central Bristol, minutes' walk from the rail station and city centre, including a shop and brewery tap. Moor now brews a core set of beers and a large range of specials, exceeding 20 different beers which are all available naturally conditioned in cask, keg, and soon in can.
There will be seven cask and four keg available on the evening :
Keg :
Fusion 2014 (8%) – Our 'Old Freddy Walker' Old Ale, aged in Somerset Cider Brandy barrels.
Hoppiness (6.5%) – The classic Moor Beer IPA.
Return of the Empire (5.7%) – Modern English IPA with 'Jester' Hops.
Ready Made 2 (5%) – Porridge Ale brewed in collaboration with Birifficio Dada in Modena. Lots of Mosaic and Calypso hops.
Cask:
Revival (3.8%) – Modern Transatlantic Pale Ale.
TM (3.9%) – Mild. A new recipe for an old favourite.
So'Hop (4.1%) – Ultra Pale Ale hopped with Galaxy.
Brit-Hop (4.1%) – Ultra Pale Ale hopped with Jester.
'Half and Half' (4.1%) – half Mild, half Bitter. Ask your Grandad.
Confidence (4.6%) – Hoppy Red Ale.
Sloe Walker (7.4%) – Hand foraged Sloes infused into Old Freddy Walker.