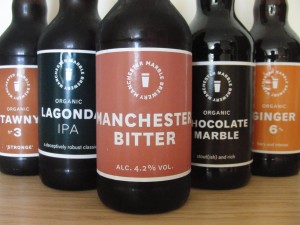 It's quite fitting after events of the past week we are celebrating Manchester, when the worst is brought out in some, the best is brought out in others. It's a similar thing in the Manchester beer world, mass brewing lethiathans swamp many pubs in the North West with tasteless cask beer when some are the saviours of flavour.
One of these is The Marble Brewery, this place makes some of the best beers in the UK, and as a tip of the hat to one of it's great leaders we are going to feature them heavily throughout the week before Colin Stronge sets his sights on the thistles & cows of the highlands.
Join us in celebration and expression of good taste.
Other great Manchester breweries will also feature throughout the week, as well as the regular cask beers from Darkstar, Thornbridge and Prospect.