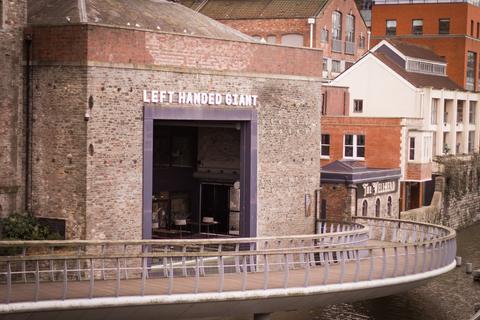 It has been too long since we last had Left Handed Giant around these parts for a few pints – so we thought we'd invite them up for a tap takeover. They'll be travelling up from their base in Bristol armed with 5 of their freshest beers, showcasing their fluency and brilliance across a range of styles. Plus, they'll have some exclusive pours from their yet-to-be-released Blender programme – oi oi!
LHG (as we call them) have been one of our favourites pretty much since day dot of them starting, and given they've now got two brewery locations and a tap room, they don't show any sign of slowing down just yet. In fact, we invited them up to Indy Man Beer Con all the way back in 2015 – and given we've just gone past the weekend that would've been IMBC, it felt like the perfect time.
As mentioned, the LHG crew will be making the journey up themselves, giving away a swag bag on the night itself.
Here's what we'll be serving:
All My Friends Fruited Gose with Papaya, Mango, Orange and Sea Salt 5.5%
We've taken the fruit back a little this time, for a refreshingly light, tart fruit character that allows the soft malt backbone to shine through. Bright, zippy citrus and sweet tropical fruit with a delicate, salty edge… mouthwatering stuff.
In Search of Brightness DIPA 8.5%
*PRETTY MUCH A FIRST POUR* New double IPA – expect big, bold, bright.
We Are Floating In Space Imperial Stout 15%
WOOF! Imperial stout with brown sugar, cacao, banana, almond and vanilla.
Cheeseburger Cavalry IPA 6.9%
Burgers & beers are an amazing combination. Thankfully, this beer wasn't made with burgers, but instead a whole heap of Citra and Mosaic.
No Maps IPA 6.8%
Another superb example of a juicy, creamy and immensely enjoyable IPA. Brewed with Cryo Amarillo and Mosaic hops for a hoppy punch and Oats and Wheat for a creamy finish
Comments are closed.