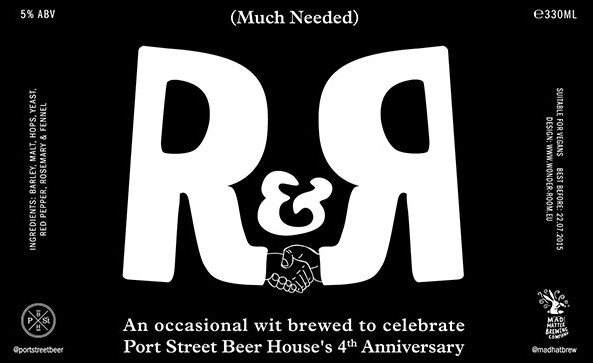 As is tradition we have brewed a special birthday beer, this time with Mad Hatter 'cause they brew some great witbiers with interesting ingredients. Remember how good Raspberry & Basil Wit was?? Have you tried the Cranberry & Beetroot Wit? They're right good!
Influenced by some of our favourite beers from last year we decided to brew a Wit using a load of red peppers and brettanomyces then throw in a few extra herbs & spices too. Come give it a try! We'll let you know the name of it when we come up with something 'witty' (sorry). Help us choose from our current ideas by voting on our Facebook page… (UPDATE the beer is now called 'Much Needed' R&R)
We all piled down to Liverpool, hopping on the train with 2 x 25kg sacks of grain to carry over to Mad Hatter before getting lost with some taxi drivers and then finally making it to get brewing. Gaz & Sue were kind enough to let us have some delicious beers while we brewed, which obviously led to us buying some for Port Street so you too can try them!
This latest batch of Follow The White Rabbit is probably my favourite White IPA, so you should definitely try it. Here's some photos from the day…
http://madhatterbrewing.co.uk/
Label design by Steve Hockett – http://wonder-room.eu/