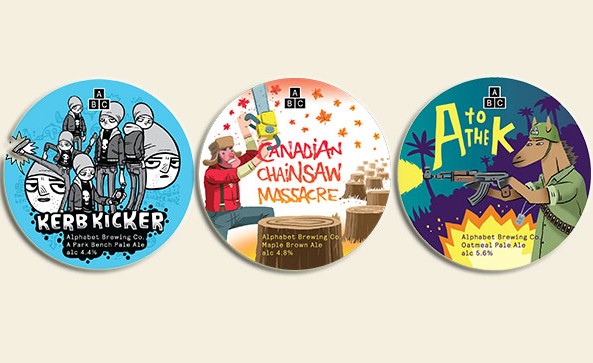 April's rich vein of takeovers at Port Street continues with the launch of Manchester's Alphabet Brewery. A small craft brewery based behind Piccadilly Station focussing on making fun beers with big, bold flavours. Head brewer is Tom Evans, previously of Huddersfield's Hand Drawn Monkey. Pump clips by famed Manchester street artist and illustrator, Hammo, mirror the brewery's excitable intent.
We first tasted Alphabet's output in the shape of A to the K, an oatmeal pale ale, back in January at our belated Christmas party. Our staff drained a keg in little over an hour, it was that good! Some of you may too have been lucky enough to have tasted Alphabet's initial yield. For those of you still in the dark we are proud to be presenting Alphabet Brewery's official Manchester launch at the end of the month. Their beer launch setlist reads like a dream…
KEG :
Kerb Kicker 4.4% pale ale
A to the K 5.6% oatmeal pale ale
Crate Digger 8.3% coffee stout
Flat White 7.8% white breakfast stout
Space Invader 6% pink grapefruit & tarragon saison
Canadian Chainsaw Massacre 4.8% maple brown ale
Hop Damn 6.1% chili black ipa
Come join us to dot the i's and cross the t's on Alphabet's official Manchester debut!