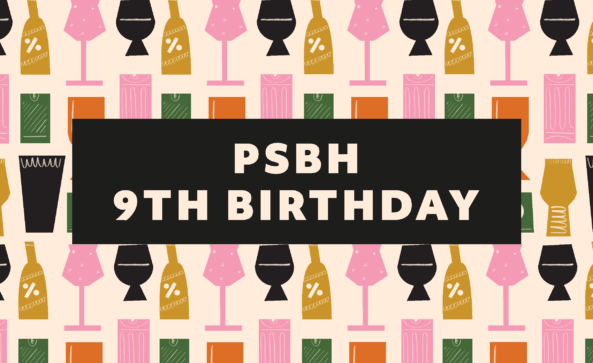 PORT STREET BEER HOUSE 9th BIRTHDAY
Thursday 6th February 2020
5pm – midnight
Free entry
It's our 9th Birthday! To celebrate we are laying on the following…
FIVE POINTS TAKEOVER
We welcome Hackney's The Five Points Brewing Company to Port Street for maybe the first time ever (I'm old, I can't remember). One of the mainstays on the modern beer scene, Five Points have been knocking our socks off lately with their supreme cask beers, seminal pales, and barrel aged specialities. Expect more Five Points than you shake a stick at. FULL CASK COVERAGE, modern classics, and spicy specials.
CASK
PALE 4.4% flagship pale
BEST 4.1% bitter
CITRUS PALE 4.2% Sicilian lemon & grapefruit pale
BRICKFIELD BROWN 5.4% brown ale
HOOK ISLAND RED 6% red rye
DERAILED PORTER 🚨 5.2% Brett aged Railway Porter
PSBH x FIVE POINTS x SQUAWK "NINE FINCH RAILS" 5.7% Stout Porter | Corvus meets Railway Porter
KEG
XPA 4% extra pale ale
PILS 4.8% Pilsner
RAILWAY PORTER 4.8% fkn classic
JUPA 5.5% juicy pale ale
CATPAW 5% BA Chardonnay mixed ferm sour
OLD GREG'S BARLEY WINE 2018 12.8% booze nation
BOTTLES 660ml sharers
BA GRAND STOUT 12% whisky BA stout
OLD GREG'S BARLEY WINE 2018 12.4%
+++
PSBH x FIVE POINTS x SQUAWK NINE FINCH RAILS LAUNCH
It wouldn't be a birthday without A BIRTHDAY BEER. Five Points are coming up to Manchester to brew a beer at the almighty Squawk. It only made sense to merge two of our favourite dark beers of the past few years…Five Points' Railway Porter and Squawk's Corvus. Find it on CASK at our Birthday! Nine Finch Rails.
+++
SQUAWK SHOWCASE
Find 4 x Squawk Brewing Co hits pouring on our UPSTAIRS BAR all night long. Squawk are one of our favourite Manchester breweries so we wanted to get them in on the party. Five Points downstairs, Squawk upstairs…gotta catch 'em all!
KEG
Muta – DIPA 8.1%
Fusca – Choc & Vanilla Milk Stout aged 12 months in Wild Turkey barrel 9.5%
Barrel Aged Corvus – Stout 7.2%
Rubra – Sour aged on 40kg of cherries in french red wine barrels 7.4%
+++
SIOP SHOP BIRTHDAY CAKE
We've asked our friends Lucy & Iwan at Siop Shop to whip up a 9th Birthday STOUT CAKE. Free slices from around 6pm…while it lasts (which won't be long). It might have some Five Points in it. Who knows!
Hope you can join us. Thanks for visiting over the years. Your presence is presents enough.