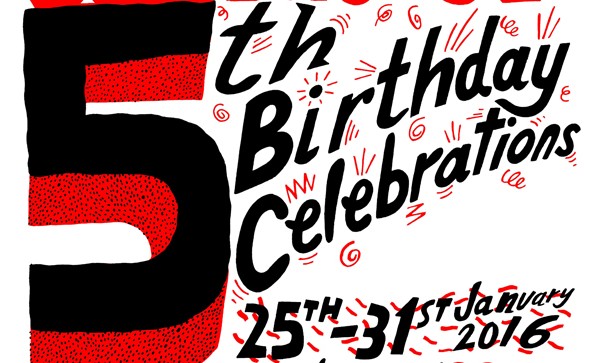 5 beers, 5 Years
January 25-31st
Collaboration Launch night: Thursday 28th January: 7pm-late
In January 2010 something exciting happened, Port Street Beer House opened its doors for the first time! Since then there have been hundreds of Meet the Brewer events, over 30+ Tap Takeovers, 20+ Collaboration brews and the birth of our sister Indy Man Brew House, 10+ Portable Street Beer House events and 4 Indy Man Beer Conventions.
In an ever-growing market of beer houses Port Street has been there. So to celebrate 5 years in the big game we are throwing a week-long party, highlighted by our 5 years, 5 beers launch party on Thursday 28th January.
Every year, to celebrate our birth we collaborate with someone special to make something special. Previous years have seen a Rosemary, Red Pepper and Fennel Wit with Mad Hatter, a Sour Cherry and Pink Peppercorn Porter with Outstanding, a Saison DuPont brewed with Summer Wine, Magic Rock, Redwillow, Dark Star & Quantum and a Satsuma IPA with Blackjack. This year we thought we would challenge ourselves even further and brew 5 beers for the one night. We are working hard to bring you the following very special brews:
1) Arbor – 4 Hop Bomb Pale
2) Vocation – Citra & Mosaic Pale
3) Cloudwater – Tea Sour
4) Northern Monk – Imperial Mild
5) Runaway, Squawk & Track – Grapefruit Pale
The rest of the week will hold special curated cask and keg lines featuring some of our favourite local, national and international breweries, as well as some specially matured bottles from our cellar that we have been hiding away for a special occasion.