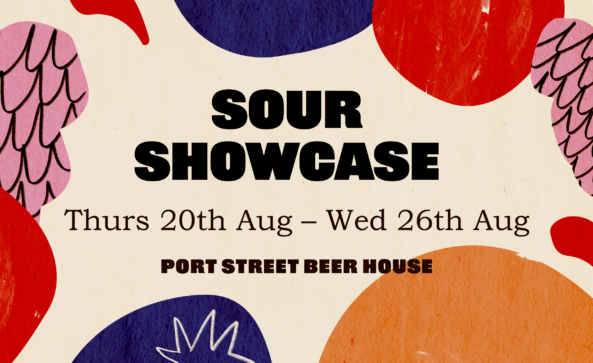 –
SOUR SHOWCASE
Thursday 20th August – Wednesday 26th August
A diminutive tower of sour!
FOUR BEERS on tap and TWO special fridge fellows make up our week long sour showcase. Get them lips puckering.
Line up…
ON TAP
MIKKELLER DoubleSpontanRaspberry
7.7% sour ale brewed with raspberries and aged in oak barrels. A ton of raspberry on the nose and a ton of raspberry and sourness in the gob. The double spontan series from Mikkeller always produces show stopping beers and this is no exception.
DOUBLE BARRELLED BlueBarry
6.9% Birthday Blueberry Kettle Sour, originally made to celebrate Double Barrelled's first birthday. This is the only keg in existence. Named after brewery cat, Lord Barrington. SOLD!
THE BRUERY Peach Sour Blonde
6.2% sour blonde ale aged in oak barrels with ripe peaches from Placentia, California's The Bruery. One of the go-to world breweries for sour beer. Don't miss it!
SQUAWK Cursor
5.3% raspberry sour. Wonderfully sharp and full of fruit. The largest amount of fruit Squawk have ever put in a beer and it shows. A vivid pink/purple hue and a body to balance out the sour tones.
+++
IN THE FRIDGES
To drink in or take away
VAULT CITY Cherry Bakewell Sour 375ml bottle
7.2% mixed fermentation sour beer with local Scottish cherries, almond and vanilla. Cake in a glass. A rare chance to get your hands on beer from Edinburgh space cadets, Vault City, in Manchester.
POMONA ISLAND Much Intenser Dance Vibes 440ml can
10% fruit-forward, body-centric, flavour-riffic Imperial Pineapple and Guava Gose from Salford sons of anarchy, Pomona Island. An amped up version of their recent Such Intense Dance Vibes hit.
—
OPENING TIMES
Monday – Friday 3pm-late
Sunday 2pm-8pm