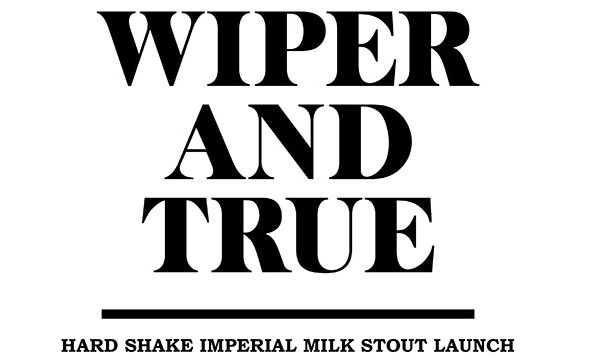 WIPER AND TRUE IMPERIAL MILK STOUT LAUNCH AND TAP TAKEOVER
Thursday 2nd March 2017 / 6pm-late
Bristol's Wiper and True make the long haul to Port Street with the immaculate yield. Join us for a very special evening with Wiper and True themselves to celebrate the launch of their Hard Shake Imperial Milk Stout alongside the following hits on cask and keg…
KEG
HARD SHAKE / Imperial Milk Stout / 10.7%
A stronger, more opulent version of Wiper and True's original Milk Shake recipe with lavish amounts of chocolate malts, vanilla and the addition of cacoa nibs. Contains lactose.
COLUMBUS / Amber Ale / 5.3%
Single hopped with the US hop Columbus. Rich, sweet malts combine with notes of plum, black pepper and a hint of liquorice.
RED ORANGE / Amber Ale / 5.2%
Rich malts, bright orange citrus. Brewed with fresh orange zest.
QUINTET / IPA / 6.5%
Motueka, Mosaic, Ahtanum, Comet and Simcoe hops unite to create a beer of immense character, flavour and depth.
KALEIDOSCOPE / Pale Ale / 4.2%
Citra, Equinox and Simcoe hops unite to create a beer that is harmonious, light and refreshing.
MOSAIC / Pale Ale / 5.7%
Single hopped, exploring the magnificent Mosaic hop. Sharp citrus, blueberry and resinous pine.
SMALL BEER / Small Beer / 2.7%
Tropical fruits and soft berries with a gentle bitter finish.
CASK
RYE MILD / Mild / 4.8%
Gooseberry and peach aromas pair with rich, sweet malts and a note of peppery rye.
MILK SHAKE / Milk Stout / 5.6%
A rich, velvety and satisfying Milk Stout abundant with chocolate and vanilla. Contains lactose.