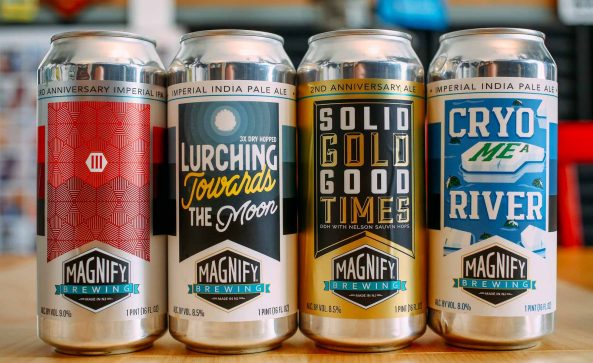 MAGNIFY BREWING TAP TAKEOVER
Thursday 18th October 2018 | midday – midnight
New Jersey's Magnify make their debut appearance at Port Street Beer House with a bang. We'll have many Magnify kegs pouring and cans in the fridges.
Starting line-up from the selection below on keg…
Vine Shine IPA | 6.5% flagship IPA
brewed with a blend of American hops, predominately Simcoe
Grand Illusion | 8% Coconut Vanilla Milkshake Imperial IPA brewed with oats and lactose and hopped with Citra, Mosaic and Motueka. We also added large quantities of both coconut and vanilla to this beer. Creamy, sweet, tropical.
Lurching Towards the Stars – 8.5% Triple Dry Hopped Imperial IPA
Based off of Lurching Towards the Moon and Lurching Towards the Sun. We dry hopped this beer 3 times with Waimea, Nelson Sauvin, Simcoe and Columbus.
DDH Babysitter IPA | 4.2% IPA
Double dry hopped with Citra, Amarillo, Simcoe and Centennial. This beer has the exact same amount of hops per barrel as our mid range DDH IPAs, but comes in a more crushable format. Sometimes we all have to be responsible but still want some DDH goodness.
Thrill of the Chase | 8% Imperial IPA.
We dry hopped this beer with Citra, Simcoe, Mandarina Bavaria and Cascade.
New Car Smell | 6.7% DDH IPA
We just got the first shipment from our first ever Nelson Sauvin hop contract. To celebrate we decided to take this year's crop of Nelson for a test drive with this double dry hopped IPA. Brewed with massive amounts of Nelson and a touch of Simcoe and Calypso.
Intergalactic Event | 6.5% IPA
Based on Maine Event IPA. Maine Event is brewed and dry hopped with Citra and Simcoe. We used the same recipe for Intergalactic Event, but swapped all the Simcoe in the whirlpool and first dry hop for Galaxy. We then dry hopped it a second time with another hefty dose of Galaxy.
Search with Peach and Apricot | 5.5% oak fermented saison with brettanomyces and conditioned on peach and apricot.
Read Receipts | 7% Sour IPA
Collab with Barreled Souls. Brewed with lactose and conditioned on raspberries and vanilla. We dry hopped this beer with Nelson Sauvin and Mosaic.
DDH Headaches | 8.2% Double IPA
We first brewed Headaches during our first expansion for all those headaches that come with the territory. As we add personnel and more stainless in the next month to squeeze out a little more beer out of our humble little brewery, we figured this was a good time to re-brew this old favorite with the DDH treatment.
Infinite Oil | 9% Imperial IPA
This is a mash up between Infinite Verbiage and Peak Oil, two of our favorites. Mosaic, Topaz, Apollo hop oil in the whirlpool and dry hopped with Mosaic, Ella, Amarillo, Galaxy and Apollo hop oil. A seriously intense hop experience.
Through the Use of Technology | 11% Imperial Stout
with Maraschino cherries, vanilla, coconut and hazelnut
Hoptrastophe! | 8% Imperial IPA
Triple DH Imperial IPA brewed with El Dorado, Citra cryo and Topaz in the kettle and dry hopped with 3 layered additions of Nelson, Motueka, Waimea, Galaxy and Citra cryo.
French Toast | This is a breakfast inspired DIPA, brewed with oats, maple syrup, lactose and cinnamon and dry hopped with Citra, Mosaic and El Dorado. The result is a complex unity of flavors that taste like your favorite weekend breakfast.
COME THROUGH FOR THE REAL THING!