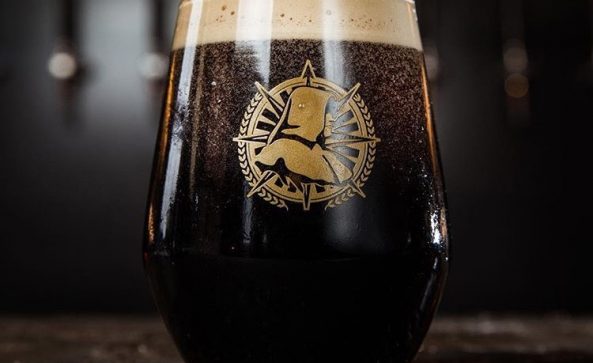 It's our big fat Port Street tap takeover of the year…
NORTHERN MONK TAP TAKEOVER
Port Street Beer House
Thursday 7th December 2017
Midday-Midnight
Keg? In full effect. Cask? You betcha. Classics you can hang your hat on? Sure. Rarities? You better believe it.
Leeds heroes NORTHERN MONK come to Port Street for the first time in a few years to lay on a killer spread, colour us excited. Set list to come.
Get your Port Street membership card FREE for 10% off beers all day long, and for always: www.portstreetbeerhouse.co.uk/membership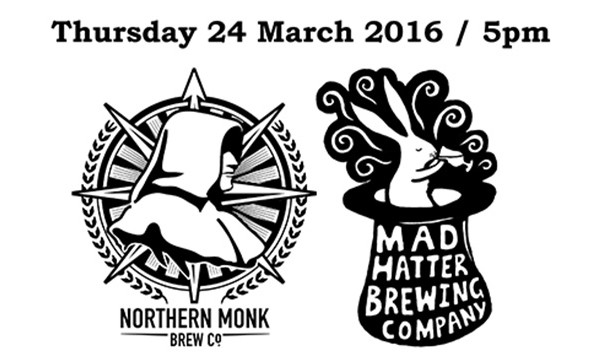 Mad Hatter x Northern Monk tap takeover and collaboration launch / Thursday 24th March 2016 / 5pm onward and upward
Very pleased to announce the most exciting meeting of minds since the Leeds-Liverpool canal, which is coincidentally from whence these two breweries hail. Northern Monk (Leeds) and Mad Hatter (Liverpool) combine to become Mad Monk and take over Port Street for one night only.
Primarily Northern Monk and Mad Hatter are here to launch their new collaboration, an 11% Salted Caramel Imperial Mild. Consider our interest levels spiked! We can't wait to taste it. It'll be pouring on cask on the night but lo, that is not all…
Both Mad Hatter and Northern Monk will be bringing 3 x kegs apiece and 2 x casks. That's 11 beers in total (including the collaboration), maths fans. Mad Hatter are rarely making cask beers these days so we can't wait to see what they bring. Northern Monk, of course, are modern UK caskmasters so we are equally excited for their haul. And that's to say nothing of the keg! Beer list coming soon…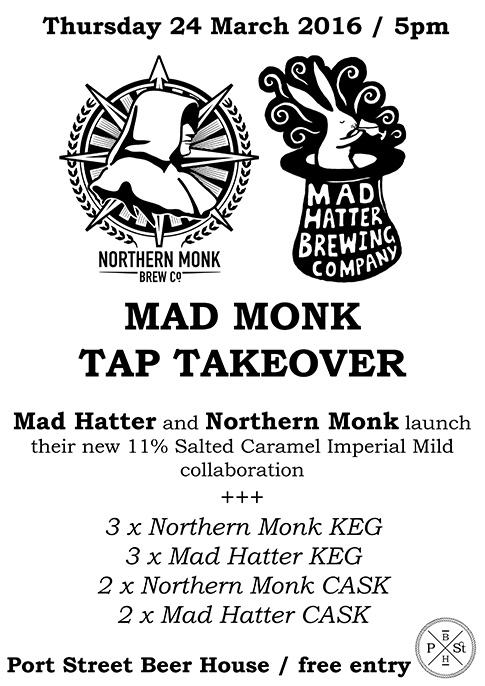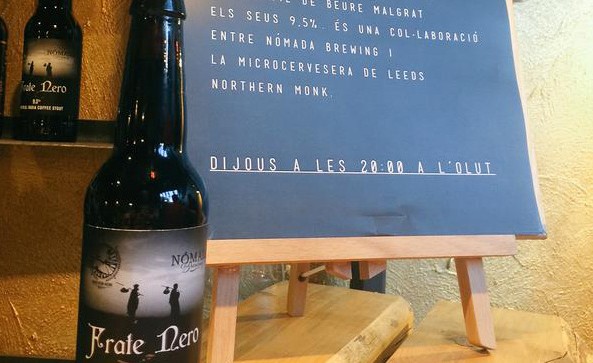 Aw, so cute! The tiniest of tap takeovers has just landed on our doorstep all wrapped up in a tidy bundle. Leeds favourites, Northern Monk, have recently done a collaboration with Nomada of Sabadell, Spain. Frate Nero, an Imperial India Coffee Stout. To celebrate we'll be pouring their collaboration along with one keg apiece from the breweries.
As well as these three taps, we will also be carrying a veritable bevy of Nómada bottles. Northern Monk have imported a whole host and we were only too glad to accept this rare spread. Imperial Papaya IPA anyone? Imperial chilli chocolate stout with a whole chilli in it? Taste buds tingling in anticipation. You will also be able to try out the Frate Nero collaboration in bottle alongside the keg.
A great chance to get a taste of these lesser seen Spanish beers – and to rub shoulders once more with our most trusted monk from across the pennines.
ON KEG
MARACUYA
Nómada
Passion Fruit Pale Ale
3.5% ABV
FRATE NERO
Nómada / Northern Monk
Imperial India Coffee Stout
9.5% ABV
MYSTERY BEER
Northern Monk
To be confirmed
?? % ABV
IN BOTTLES
FRATE NERO
Nómada / Northern Monk
330ml
9.5% ABV
TUNDRA
Nómada
Golden Ale
330ml
6% ABV
ESTEPA
Nómada
Red IPA
330ml
5.5% ABV
MOLE NEGRO
Nómada
Imperial Chilli Chocolate Stout (7 types of chilli and sugar cane)
330ml
8.4% ABV
PAPAYA CRASH
Nómada
Imperial IPA with Papaya
330ml
8.8% ABV
NÓMADA / NORTHERN MONK MINI TAP TAKEOVER
Thursday 25th June 2015 / from opening at 4pm