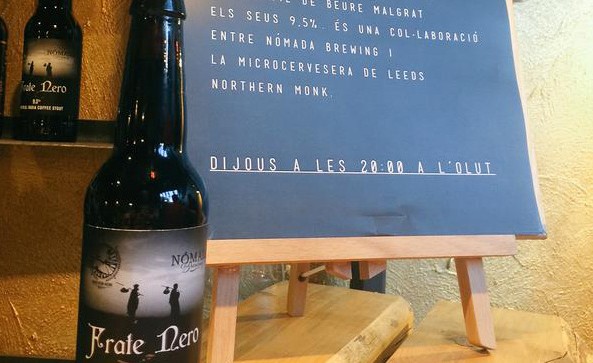 Aw, so cute! The tiniest of tap takeovers has just landed on our doorstep all wrapped up in a tidy bundle. Leeds favourites, Northern Monk, have recently done a collaboration with Nomada of Sabadell, Spain. Frate Nero, an Imperial India Coffee Stout. To celebrate we'll be pouring their collaboration along with one keg apiece from the breweries.
As well as these three taps, we will also be carrying a veritable bevy of Nómada bottles. Northern Monk have imported a whole host and we were only too glad to accept this rare spread. Imperial Papaya IPA anyone? Imperial chilli chocolate stout with a whole chilli in it? Taste buds tingling in anticipation. You will also be able to try out the Frate Nero collaboration in bottle alongside the keg.
A great chance to get a taste of these lesser seen Spanish beers – and to rub shoulders once more with our most trusted monk from across the pennines.
ON KEG
MARACUYA
Nómada
Passion Fruit Pale Ale
3.5% ABV
FRATE NERO
Nómada / Northern Monk
Imperial India Coffee Stout
9.5% ABV
MYSTERY BEER
Northern Monk
To be confirmed
?? % ABV
IN BOTTLES
FRATE NERO
Nómada / Northern Monk
330ml
9.5% ABV
TUNDRA
Nómada
Golden Ale
330ml
6% ABV
ESTEPA
Nómada
Red IPA
330ml
5.5% ABV
MOLE NEGRO
Nómada
Imperial Chilli Chocolate Stout (7 types of chilli and sugar cane)
330ml
8.4% ABV
PAPAYA CRASH
Nómada
Imperial IPA with Papaya
330ml
8.8% ABV
NÓMADA / NORTHERN MONK MINI TAP TAKEOVER
Thursday 25th June 2015 / from opening at 4pm