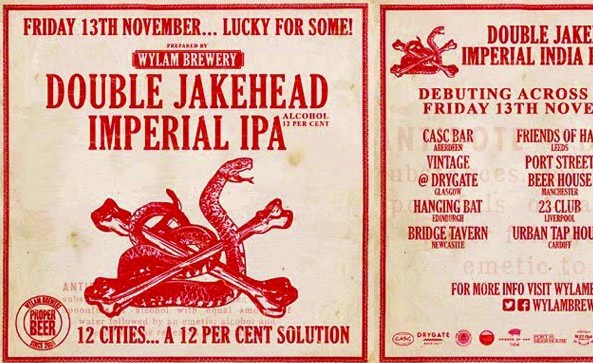 DOUBLE JAKEHEAD IPA LAUNCH // Friday 13th November // Port Street Beer House // 7pm // free entry
You know a beer is going to be good when it has its own promotional video. Well, that's maybe not necessarily the case (got the gondola-based Boddingtons advert in mind now) but IT IS this time. Wylam brewery, of Northumberland, are bringing to Port Street the amped up version of their much-loved Jakehead IPA: Double Jakehead imperial IPA. Clocking in at a heavyweight 12% ABV, the promotional material from Wylam instructs the drinker to absorb by 1/3 pint measure and to follow up with equivalent tablespoons of water. You'll be able to compare and contrast as we'll be serving Double Jakehead on keg AND cask.
We are the exclusive Manchester bearers of this great gift from Wylam. Come down to the launch on Friday 13th and spook out!