What ho!
Our good friends Track are issuing a select number of pubs in Manchester with their new Odyssey Brew Co collab, Santa Muerte. We are one of the lucky few. Join us this Friday 10th February 2017 from 6pm for a first taste of this Chocolate and Vanilla Imperial Stout.
SANTA MUERTE LAUNCH / Friday 10th February 2017 / 6pm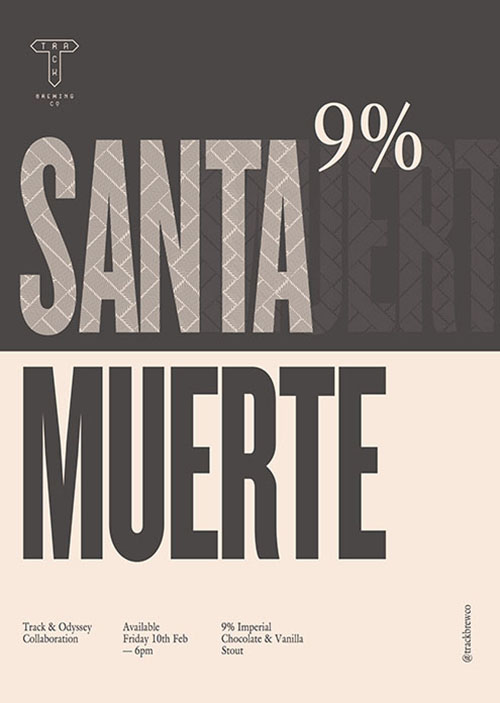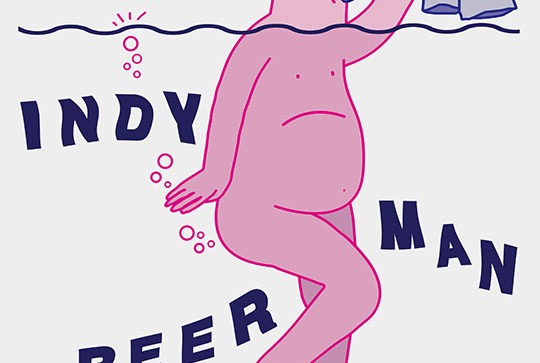 INDY MAN BEER CON LAUNCH // PORT STREET BEER HOUSE // WEDNESDAY SEPTEMBER 9th // 7PM // FREE ENTRY
Indy Man Beer Con is upping sticks from its Victoria Baths home & coming to show us Port Streeters a good time. Expect unveilings ahoy regards this year's much anticipated brewery list & taps galore from breweries that have been collaborating with IMBC ahead of the 2015 festival in October.
Read on…
"We're having a small party at our brethren Port Street Beer House to unveil some tasters of what to expect at this year's Indy Man Beer Con.
Consider it an announcement of everything that is going to be going down at IMBC. Brewers will be unveiled, eating houses unlocked, and special events earmarked.
Expect beers across the boards at Port Street from the breweries that we have been collaborating with ahead of IMBC. Details on that soon.
Food will be on hand from Epicerie Ludo, expert snack vending from the award-winning Chorlton deli. Take in all the information we'll be laying down with an Aficionado soundtrack ~ provided by kingpin, Jason Boardman, who will again be curating some of the sounds at this year's IMBC.
There will also be cans galore from the go to craft canning canners, WeCan. Find out all about their crafty can plans for IMBC…
Hope you can join us. Rolling out the IMBC 15 good times from 7pm. Free entry but of course."
Facebook event page hither: https://www.facebook.com/events/1615656378696193/
Aw, so cute! The tiniest of tap takeovers has just landed on our doorstep all wrapped up in a tidy bundle. Leeds favourites, Northern Monk, have recently done a collaboration with Nomada of Sabadell, Spain. Frate Nero, an Imperial India Coffee Stout. To celebrate we'll be pouring their collaboration along with one keg apiece from the breweries.
As well as these three taps, we will also be carrying a veritable bevy of Nómada bottles. Northern Monk have imported a whole host and we were only too glad to accept this rare spread. Imperial Papaya IPA anyone? Imperial chilli chocolate stout with a whole chilli in it? Taste buds tingling in anticipation. You will also be able to try out the Frate Nero collaboration in bottle alongside the keg.
A great chance to get a taste of these lesser seen Spanish beers – and to rub shoulders once more with our most trusted monk from across the pennines.
ON KEG
MARACUYA
Nómada
Passion Fruit Pale Ale
3.5% ABV
FRATE NERO
Nómada / Northern Monk
Imperial India Coffee Stout
9.5% ABV
MYSTERY BEER
Northern Monk
To be confirmed
?? % ABV
IN BOTTLES
FRATE NERO
Nómada / Northern Monk
330ml
9.5% ABV
TUNDRA
Nómada
Golden Ale
330ml
6% ABV
ESTEPA
Nómada
Red IPA
330ml
5.5% ABV
MOLE NEGRO
Nómada
Imperial Chilli Chocolate Stout (7 types of chilli and sugar cane)
330ml
8.4% ABV
PAPAYA CRASH
Nómada
Imperial IPA with Papaya
330ml
8.8% ABV
NÓMADA / NORTHERN MONK MINI TAP TAKEOVER
Thursday 25th June 2015 / from opening at 4pm