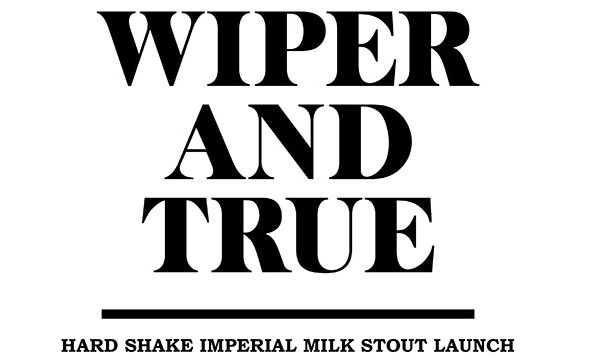 WIPER AND TRUE IMPERIAL MILK STOUT LAUNCH AND TAP TAKEOVER
Thursday 2nd March 2017 / 6pm-late
Bristol's Wiper and True make the long haul to Port Street with the immaculate yield. Join us for a very special evening with Wiper and True themselves to celebrate the launch of their Hard Shake Imperial Milk Stout alongside the following hits on cask and keg…
KEG
HARD SHAKE / Imperial Milk Stout / 10.7%
A stronger, more opulent version of Wiper and True's original Milk Shake recipe with lavish amounts of chocolate malts, vanilla and the addition of cacoa nibs. Contains lactose.
COLUMBUS / Amber Ale / 5.3%
Single hopped with the US hop Columbus. Rich, sweet malts combine with notes of plum, black pepper and a hint of liquorice.
RED ORANGE / Amber Ale / 5.2%
Rich malts, bright orange citrus. Brewed with fresh orange zest.
QUINTET / IPA / 6.5%
Motueka, Mosaic, Ahtanum, Comet and Simcoe hops unite to create a beer of immense character, flavour and depth.
KALEIDOSCOPE / Pale Ale / 4.2%
Citra, Equinox and Simcoe hops unite to create a beer that is harmonious, light and refreshing.
MOSAIC / Pale Ale / 5.7%
Single hopped, exploring the magnificent Mosaic hop. Sharp citrus, blueberry and resinous pine.
SMALL BEER / Small Beer / 2.7%
Tropical fruits and soft berries with a gentle bitter finish.
CASK
RYE MILD / Mild / 4.8%
Gooseberry and peach aromas pair with rich, sweet malts and a note of peppery rye.
MILK SHAKE / Milk Stout / 5.6%
A rich, velvety and satisfying Milk Stout abundant with chocolate and vanilla. Contains lactose.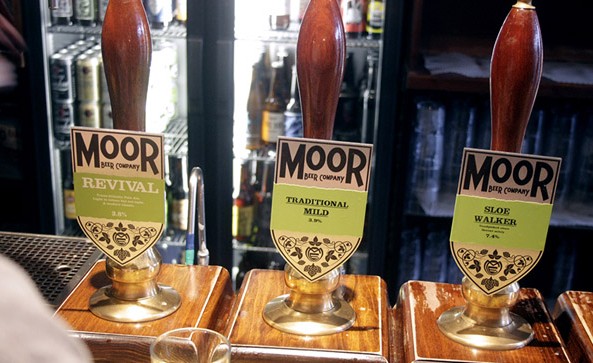 It hasn't always been smooth sailing for Moor. Established in 1996, success came quickly for them and why wouldn't it? Old Freddy Walker (7.3%), Revival (3.8%) and Hoppiness (6.5%) all made a big impression wining a multitude of awards at festivals and flying the flag from the highest tor of the Somerset-Levels area. However they became a victim of their own success, outsourcing production resulting in a dip of quality and by the mid-00s they needed shaking up to return to their celebrated past. Enter ex-US Army officer Justin Hawke who drilled the brewery hard, restoring it beyond former glories and eventually expanding to a 20-barrel brew length and bottling line, putting Moor front and centre of a revolution.
Tonight they've infiltrated Port Street Beer House with a regimented line up of 4 keg and 7 cask, all looking formal and all very inviting. Justin Rivett from the brewery gives a succinct introduction, reinforcing Moor's stance on unfined and naturally hazy brews, a process in which they take great pride. He's also delighted to have brought the 2015 incarnation of Fusion; their old ale aged in Somerset Cider Brandy barrels. They had me at "aged" but sitting at 8%, I'll be saving that for the end of the night.
And so I begin with keg offerings Ready Made 2 (5%) and their flagship IPA, Hoppiness (6.5%). The former glows in the glass with a prickly sense of Autumn on the nose and a chorus of hops, singing in tune with the toffee stickiness. It's insanely quaffable and gone in an instant. I actually preferred RM2 to Hoppiness, which presented an ocean spray of tropical hops and is still of course a class act but didn't quite have the punch of the "fruity porridge" for me.
My next samples meander down a mellow path with Half & Half (4.1%), a traditional cask mild combined with their no nonsense Bitter, Raw. My mind is cast back to Partizan's 'Mild' and the gorgeously nutty and rounded mouthfeel proves that Moor are entirely competent with contemporary beers as well as archaic styles. A zip of citrus and a veneer of dark chocolate confirm that I could have stayed with this one for more than just the third I ordered. Confidence (4.6%) continues down the road less brazen but satisfies in its earthy and rustic debonair.
It's then a trip to the dark side with Sloe Walker (7.4%), which takes their "liquid Christmas pudding" Old Freddy Walker and combines in cask with foraged sloe berries. It's dark, rich, roasted and silky smooth. The berries offer a sour acidity which threads through the old ale, with no hint to the alcohol – this was probably drink of the night.
Return of the Empire (5.7%) is a clean and zippy IPA which wears it's distinct Britishness like a proud soldier coming back from war, as opposed to a particular Greene King swilling idiot. The modern British hop Jester is front and centre showcasing its tropical credentials, something not often associated with English hops. I enjoy this so much I can almost hear the haunting refrain from "Land of Hop and Glory" resonate through the building, bringing a tear to me eye.
Those tears however were vanquished with my next beer Fusion (8%), which blends their old ale with Somerset Cider Brandy. This mature beer is a complex delight when it reaches my lips: funky, punchy, roasty, oaky and smooth as a mountain goat with the sweet acidity of apples lingering long on the palate. Fusion illustrates Moor's innovation and passion in one superbly melded beer.
With it getting on a bit and having talked at length about Game of Thrones with a couple of nurses I sneak in a couple of solid cask offerings in the form of Brit Hop (4.1%) and Revival (3.8%) before closing the proceedings with the sparky Ready Made 2 again.
Moor has long been on my radar and I was only familiar with a handful of what was on offer tonight. With ease they won me over with their patrol of first class artillery, seamlessly integrating modern and traditional, innovation and passion, evident in every sip. When can I have some Moor?
Words and photos by Cameron Steward. Author of hit blog All You Need Is Beer

Moor Beer Co – http://moorbeer.co.uk