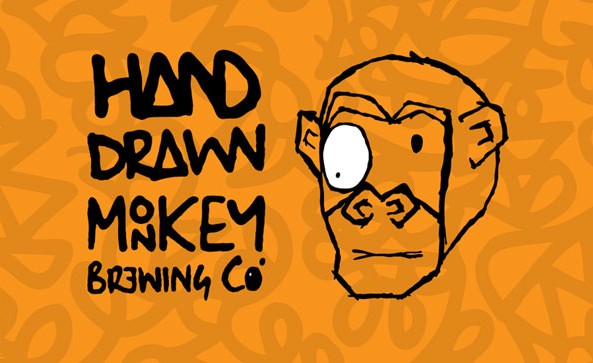 Hello, to start 2013 we have decided to 'hand pick' some of the most newest, freshest breweries around. First up is Hand Drawn Monkey in Huddersfield (is this place the centre of the brewing world?!? Must be something in the water!). Our debut blog piece comes straight from the 'monkey's mouth'….
"Hand Drawn Monkey are a progressive craft/cask ale brewing company based in Huddersfield. Started by Rob Allen, Roger Allen and Tom Evans, after some initial collaborations and cuckoo brews we began brewing on our own plant in October 2012. Winning three awards (including overall beer of the festival for our wheat I.P.A : CCI.P.A) at our launch event the Huddersfield CAMRA Oktoberfest festival were off to a great start! We are ambitious and creative (sometimes we brew stuff too weird to release). We don't know any other way of being. We stretch imagination, push forward but reference tradition. We want to be complete brewers but never the finished article.
Rob and Tom have tolerated each other's company for a few years, love beer and have brewing experience. Rob used to be the Manager and brewer at the Rat and Ratchet in Huddersfield and on-site Rat brewery. Tom has Brewed at Ossett, Blue Monkey and was head brewer at Celt Experience in welsh Wales. In mid 2012 both had moved on or were contemplating moving on to other projects. Rob had been hankering after brewing full time in his own brewery for some time and when the opportunity arose to purchase an already up and running plant from those lovely Brewsters at Mallinsons as they re-located to larger premises he contacted Tom. Tom was interested and over a few too many beers a simple plan was formed. HDM would brew the type of beers they liked to drink or beers they would like to drink but no-one had brewed yet. Rob sold his house, Tom moved up from Nottingham, the brewery was purchased and brewing began. Roger is Rob's Dad and is a keen craft beer and real ale fan and enthusiastic taster of HDM beers. He also tries to talk the boys out of some of their stranger brewing ideas. He usually fails.
We hope you like our beer. We will be making more of it."
Hand Drawn Monkey (Facebook)
@HDMBrewingCO