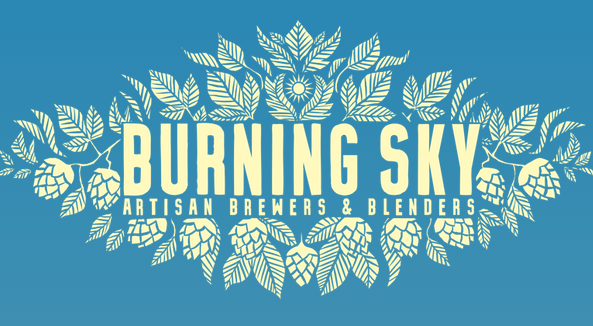 Burning Sky. Kind of Old Testament apocalyptic, no? Death raining from the sky, that sort of thing. Well you'd be quite wrong to think that. Actually, if you did, shame on you. It's more like a Slayer song title.
Amongst other things, Burning Sky is a song by Paul Weller-led erstwhile Mods, The Jam, who split up and then Paul Weller, for some reason, formed the Paul Weller-led The Style Council. He now makes solo records under the name 'Paul Weller'. He's a caution, that one.
Burning Sky is also a skydiving collective that jump out of planes over spectacularly tedious hippies/hipsters-in-the-desert festival, Burning Man. Their parachutes are, alas, in tip-top condition.
More important than any of these, though, if you are a lover of beer, at least, Burning Sky is the new brewery from Dark Star co-mastermind and all round good egg, Mark Tranter, very ably assisted by Tom Dobson.
Now, anyone who knows beer surely knows the Sussex brewery Dark Star, which started life under the Evening Star pub in Brighton in 1996. We've sold them here at Port Street since we opened, such is their quality and consistency. There were bemused stirrings on the Internet when Mark announced he was leaving to pursue other ventures. What would it be? Where would it be? How long until it opened?
All these questions were answered earlier this year when, in typical understated fashion, Mark announced Burning Sky would be starting up in the autumn, located on the Firle Estate in East Sussex, upon which Mark also lives (he's not a big posh sod with plums in his mouth, though, he just rents a cottage there). They are based in a converted stable in a tiny village with a crazy (in a good way) vicar.
Burning Sky are 'Artisan Brewers and Blenders'. Blenders. That's what excited me most of all. It suggests one of my favourite types of beer, the sours of Belgium. I was lucky enough to visit the brewery just after it was finished, but before brewing had commenced. They had a test batch of the Saison a la Provision that I willingly accepted a sample of. Well, a half. And then another half. It's remarkable, it really is. Fruity, tart, slightly spicy – everything you'd expect from a Saison, and the best I've tasted outside Belgium.
Anyway, all this bluff and nonsense is leading up to our announcement that we have taken delivery of five of their beers – Saison a la Provision (6.5%) in keg, Saison L'Automne (4.2%, with rosehips – keg), Plateau Pale Ale (3.5%, cask), Aurora strong Pale Ale (5.6%, cask), and Devil's Rest IPA (7%, cask and keg). We're very excited about this development, and we hope you are too. They'll be on sale in the near future, so keep an eye on our Twitter feed, @portstreetbeer, where we'll be posting when they go on sale.