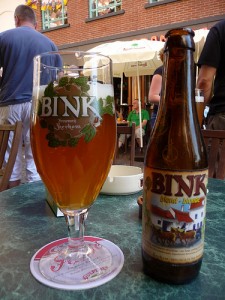 Belgium has one of the most diverse beer cultures in the world (perhaps now eclipsed by the USA but that's for another time) and for many beer enthusiasts it is something of a mecca. Almost every beer style you care to mention is made in Belgium – and very often the Belgians got there first and have been doing it better and for longer than anyone else. With one exception.
A feature of the craft beer scene here, in the USA, in Scandinavia and the Netherlands has been the creation bold hoppy beers, using New World hops, primarily from the USA and New Zealand. Centennial, Chinook, Amarillo, Nelson Sauvin and many others. All names to get the hop head drooling with eager anticipation.
Belgium has been slow to catch on but now a new generation of brewers are producing hop forward beers to rival the best. Here are few to check out (and to nag your local craft beer bar or shop to stock).
Bink Blond – made by the impressive Brouwerij Kerkom this 5.5% ale (almost session strength by Belgian standards) is a little beauty. Light oak in colour, aromatic, dry and elegantly hopped it is still one of the best.
Taras Boulba – Brasserie De La Senne have just opened a new brewery having previously borrowed other people's kit to make their stunningly good beers. At 4.5% this really is sessionable – which is just as well because this very pale, aromatically hopped beer is very addictive. De La Senne also makes Zinnebir which at 6% is Taras Boulba's big brother in many ways. It's confident, well-hopped and hugely drinkable – think Marble Dobber with a Belgian twist.
IV Saison – there may be an emerging trend in Belgium whereby some brewers revive the traditional saison style as a vehicle for their more hoppy offerings (check out world classic Saison Dupont). None more so than this, the first beer from Brasserie de Jandrain-Jandrenouille. Launched in 2007 this 6.5% blonde beer brewed using American hop varieties made an immediate impression. Crisp, aromatically hoppy and dangerously drinkable. They have also recently launched VI Wheat – a clear wheat beer with a lemony hoppy taste – a unique take on a Belgian tradition.
Houblon Dobbelen IPA Tripel – this big bold 9% blonde bombshell from Brasserie d'Achouffe was one of the first Belgian beers to use American hops in a big, fairly unsubtle way (not that that's a bad thing). Nodding to its Belgian roots with a hint of spicing this beer is mainly a vehicle for a huge amount of Amarillo hops.
Viven Imperial IPA – Viven don't brew but instead get their beers made by someone else. Don't let that put you off though. This was launched in 2009 and is probably the most hop-loaded beer presently coming out of Belgium. Very much in the American style, this 8% blond IPA is heavily hopped using American Tomahawk and Simcoe hops. Unapologetically unsubtle and a superb drink.
This combination of New World hops with Belgian beer traditions has already produced some tremendously good stuff – and what's really exciting is that the Belgian brewers have only just got started on their love affair with up front hoppy beers. There are great things still to come.

Words by John Clarke / Chariman of South Manchester CAMRA and Editor of Opening Times
NB. We will be stocking a few of Johns recommendations in the next couple of weeks.