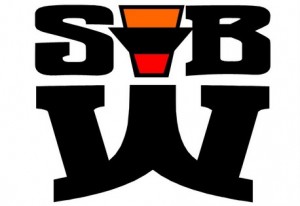 Seeing as we're having a little meet the brewer with our friends over at Summer Wine Brewery we thought we'd pop over and meet them on their own turf. Their own turf being the hills and valley of deepest, darkest Yorkshire, Holmfirth to be exact, ok so it wasn't that dark but I'm a Lancashire lad so can't pass up the opportunity to have a dig. So after a quick jaunt over snake pass and getting only slightly lost, we arrived as you so often do when visiting breweries at a slightly ramshackle industrial estate.
The brewery has been going for nye on 3 years, but there's been a definite shift of gear in the last 12 months. After spending the first couple of years learning their trade, making plenty of mistakes and by their own admission brewing 'accountants' beers they had what you might call an epiphany, it went something like this, 'Sod it, we're fed up of making beer for other people let's make the beers we really want to drink', I'm paraphrasing a bit so forgive me. And that meant big beers, big flavours, creativity, experimentation and, of course bucket loads of hops. And you know what, it worked. As is so often is the case when craftsmen lose their inhibitions and let their passion, knowledge and ability shine through, that's when you can create something really special. We first came across SWB at the winter ales festival here in a freezing cold Manchester, Diablo IPA was far and away the standout beer of the festival for us and since then we've featured them on a pretty regular basis here at PSBH.
Anyway, the brewery, as you might expect from a small start up brewery it's a pretty basic set up, but it's great to see the skill and knowledge that go into getting the most out of it. As we go in Teleporter is in the kettle, great wafts of malty goodness (10 different malts to be exact) greet us, and James(head brewer) is just about to add the finishing hops. As we make our way through to check the fermenters, there's 5 or 6 open top fermenters filled with Saison, Diablo and various other bits most with enormous pillows filled with whole cone hops floating around on top. Again this system, however basic it might be, they say provides them with great opportunities to experiment just knocking out a gyle of what ever they fancy, whenever they fancy. This freedom has already resulted in some great new beers Rouge Hop, Nerotype Black IPA, The Benz and 7Cs to name but a few, most of which may never be repeated.
To say these guys are enthusiastic about hops is an understatement, and not just throwing tons at the beer(although they do, 7Cs has 3.5kg per cask) but they really demonstrate a love for and a great understanding of their raw materials. At present they hold a stock of over 40 different hops, including a test batch of Eldorado only given to a handful of brewers. The same spirit applies to playing around with malts and yeast strains too, a great example of that is the Summer of Saison range (to be released at our tasting on Monday), we were fortunate enough to have a quick scoop straight off the fermenter and true to style is effervescent, refreshing with a beautiful subtle spice note from the yeast.
Summer Wine are a team which at present seem to be on top of their game, they're focused on making the best beer they can, the only constraint being their imagination. They'll be here in the bar from 6pm on Monday 25th and a couple of more approachable, affable guys you couldn't wish to meet, if that's not enough the beers are awesome. So get yourselves down for some fine beers, chat, pork pies and parkin.
http://www.summerwinebrewery.co.uk/