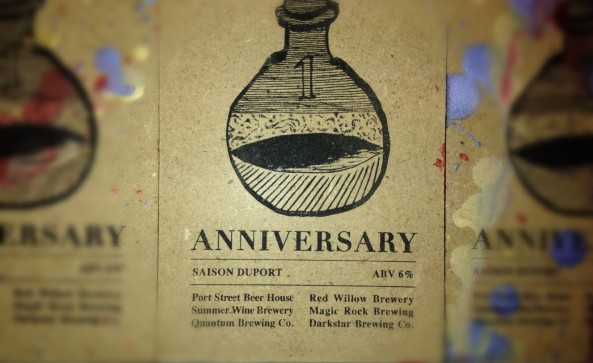 Last Thursday we had the pleasure of launching our collaborative birthday beer, "Anniversary: Saison DuPort", a traditional farmhouse ale, dangerously drinkable at 6%. Collaborating with some of the countries most progressive brewers the temptation is to go for hops, hops and more hops, we decided to go for traditional and subtle instead, staying pretty true to style and letting the yeast do the talking.
So what's in store for the Saison now? …..It will surface at Port Street a few times before the year is out, on keg & cask, please keep an eye out for it.
Also, the word on the street is that it's going to be in some of the UK's finest purveyors of the malt based beverage that is beer.The Sparrow in Bradford, Cask Pub & Kitchen in London, Mr Foley's in Leeds, The Evening Star in Brighton and the Free Trade Inn in Newcastle have all said they would take our creation. These amazing places share our love of beer and we are so proud to have it winging it's way to them.
The beer is also being bottled and aged, allowing the yeast to carry on doing it's thing, we'll maybe crack some of these on our next anniversary.
Big thanks go first of all to the brewers Summer Wine Brewery, Red Willow, Quantum, Magic Rock and Darkstar.
Not only but also, our pumpclip design and production by Alex Humphreys (Illustration), Kunstkammer (Graphic Design), Savwo (Print and ink dribbling).
Word by William France