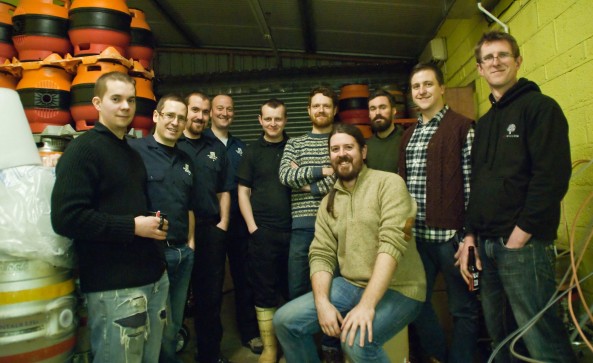 Who would've thunk it? It's nye on 12 months since PSBH came in to being, it's been an exciting year in lots of ways, not least the opportunity it's given us to work with some fantastic brewers. Occasionally they've been kind enough to let us come down to the brewery and 'help out', this usually involves us getting in their way, offering useless suggestions, doing any menial tasks thrown at us but hopefully learning a lot along the way.
So as a celebration of our first year we decided to put together a little brew day of our own, lacking in a brewery as we are, we asked Andy and James at Summer Wine if they'd be prepared to host, we invited some of our favourite brewers down to lend a hand, Toby from Red Willow, Jay from Quantum, Mark from Darkstar, Magic Rock and of course some of us. In the weeks running up to the brew day a flurry of emails were exchanged discussing styles, methods, malt, hops, yeast strains and the like, an agreement was struck that it should be a Saison, one of a few emergent styles during our first year of business. Maybe we'd throw in a few spices here and there but keep it pretty classic.
Brewday finally arrived and we made our way at ungodly o' clock to Honley via Huddersfield on a beautiful crisp, cold winter's morning and were treated to a hazy, orange bloom of a sunset creeping reluctantly up over the Pennines. First things first on arrival a pre brew brew, which gave us the chance to have a peruse of the malts and hops to be used in the brew. We settled on a mixture of pale, caramalt, wheat and a little crystal rye to add a subtle spice and colour to the wort. Hops would be a mixture of more subtle euro-style hops including Aramis, Saaz, Liberty and Sterling just enough to augment the spice character of the yeast, which was provided by Mark from Darkstar, who alas couldn't make the trip up to join us, so his yeast had to stand in for him.
The brew day continued pretty smoothly with most of the brewers standing around drinking cups of tea issuing commands to us lower caste brew monkeys. A fantastic lunch was laid on by Andy from SWB and we got down to the really important stuff, naming the beer, this is where we started to hit a few speed bumps. We spent most of the rest of the day in heated debate, my own favourite suggestion I've been reduced to using for this humble blog, I'm sure you'll agree it's clearly a stroke of genius, the others were less convinced, not that I'm bitter about it. Eventually we settled on just calling it 'Anniversary', hopefully the first of a series, with the subtitle of Saison DuPort, thanks to Rich Magic Rock for coming in with a last minute blinder.
Anyway I've prattled on quite long enough, we'll be launching the beer on Thursday 2nd February as part of a Birthday Party we'll be having, you're all invited, so come along and have a little try.
Words by J. Heyes / Pictures by J. Krause