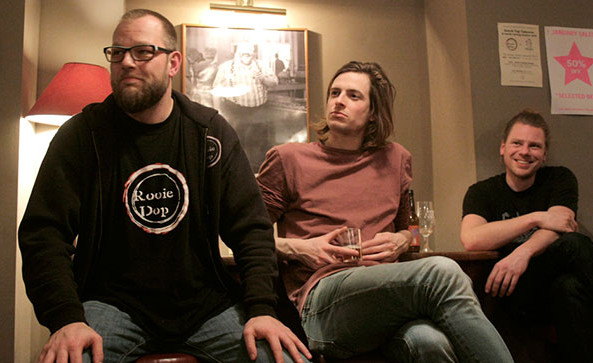 Over the years I've somehow convinced myself that Port Street Beer House was established solely for my benefit. I moved to Manchester in late October 2010 and my melancholy for departing Leeds must have been so widely reported that a couple of beer lovers felt to rectify my situation. By the end of January 2011 Port Street was born. A simple case of demand and supply and not a hint of delusion…
I'm happy to be along for their 4th birthday party and to mark the occasion they invited a bunch of beer-brewing buddies to help ring in the festivities. PSBH have long supported their esteemed guests, both of whom have travelled from the Netherlands to host a bottle tasting and tap takeover.
I arrive 30 minutes ahead of the bottle event so I can sample some of the keg offerings from Utrecht's Rooie Dop and Amsterdam's Oedipus Brewing. I start with the latter, opting for their malty Bock Luchtfietser (7%). It's a marvellous example of the style with sweet, chewy caramel leading the charge, backed up with an abundance of fruit and pine from the Polaris, Chinook and Simcoe dry-hopping. Add to that a subtle wisp of smoke from the smoked malts that shimmies through the bitter finish and we're off to a great start.
Rooie Dop's 24/7 Session India Ale (4.9%) sold out in 45 minutes! Gutted to have missed that but I keep things in a similar ball park with Oedipus' APA Mama (5%), who introduces her citrus hops with a punch in the face rather than a polite handshake. Centennial and Motueka offer plenty of grassy and citrusy wham, bam, thank you mama but it's all a bit pedestrian in taste. A bigger body would help take this up a level or two.
We're beckoned upstairs and find Oedipus' Sander Nederveen and Paul Brouwer and Rooie Dop's Mark "the dude" Strooker looking so at ease they're already part of the furniture. Immediately they create a casual atmosphere as Paul addresses the room with a childish glee that's positively infectious. The hosts demand that the formal layout of chairs is disrupted in favour of chaos and intimacy. It's going to be one of those nights…
To accompany Paul's introduction we're presented with a third of Oedipus' Mannenliefde (6%); a cheeky farmhouse ale brewed with Szechuan Peppers and Lemongrass and by their own confession, not enough Sorachi Ace hops this time 'round. This sparks Sander's justification that they're always changing the recipes; the last batch being way too hoppy. It's a philosophy that reflects their wide-eyed wonder as they discuss how their palates are constantly evolving and ultimately, they just get "a bit bored brewing the same beers all the time". At any rate this is a top tier Saison, with plenty of peppery spice ricocheting off the fragrant lemon bite.
Next up and it's another Oedipus; this time a smoked Porter by the name of Rubberen Robbie (6.7%), brewed with one of my Dutch favourites Brouwerij de Prael. Named after a frankly dreadful comedy folk band from Leiden (Flight of the Conchords they ain't) there sure is plenty of smoky, woody malts plus lashings of coffee and black treacle character. It's pretty dry too and again Paul and Sander are quick to note that this batch was too dry but hey, there's enough chewy tobacco and antique leather chair to make up for that.
Finally I get round to trying a Rooie Dop drop, Back To Black (8.6%); an Imperial Stout brewed in conjunction with Tupiniquim Coffee from Brazil. It's quite the first impression with it's obsidian-black tar eruptiing aromas of raw coffee beans. There's earthy hops, a pinch of peat and a soft, chocolate mousse finish. Mark can finally give us his spiel about his feelings towards collaboration. He bloody loves it! He stresses that these alliances are essential; an expression of fun, where through talking with like-minded enthusiasts spawns ideas to "make something different, something extreme and something truly special". And they've certainly accomplished that with Back To Black.
We press on with Oedipus' homage to the big West Coast IPA, Gaia (7%). A swamp-load of US hops make for a dizzying glass of citrus pulp that in some way must contribute to your 5-a-day. There's a sweet marzipan finish that compliments that infinite bitterness. Paul and Sander again prove to be their own harshest critics, noting that this could be more aromatic but it had been sat in the bottle a while…
Back to Rooie Dop and to support Mark's collaboration cause he presents a 7-way orgy of Dutch breweries in the form of Betty Wang (7.7%). There's a rich honey and grassy hop profile heightened with the addition of Saffron and soft, yeasty spice but it it just doesn't gel for me; too many cooks, broth, etc.
Luckily their Utrecht Strong Ale (9.1%) is a big-ass, superbly executed US Barleywine, which totally annihilates any preceding notions of over-indulgence. There's a deluge of tropical aromas, however those hops turn out to be shrinking violets as this is all backbone baby, with a fog horn of sweet malt and dolly mixture and a body that just won't quit.
It's a blockbusting way to bring the proceedings to a close and on leaving I catch Mark and Paul, where they prove to be every bit as charming in intimate conversation as when performing to a packed room with their boyish antics. I return to the bar to sample a few more from the tap takeover; Rooie Dop's Double Oatmeal Stout (9.6%) is chock-full of smooth chocolate and dark, stone fruit. However the Dop seem at their strongest when they scale things back, as Chica Americana IPA (7.1%) proves. A myriad of Chinook and Cascade give you every drop of mango and pine you'd want in the style and at 7.1%, it's positively sessionable compared to any of the aforementioned Rooie Dop reps.
When you start thinking that 7.1% is sessionable it's time to go home, so I did; with a smile on my face and boyish glee coursing through my veins. Happy birthday Port Street, let's do it again next year.
Words and photos by Cameron Steward. Author of hit blog All You Need Is Beer
Rooie Dop – http://www.rooiedop.nl/
Oedipus – http://www.oedipusbrewing.com/