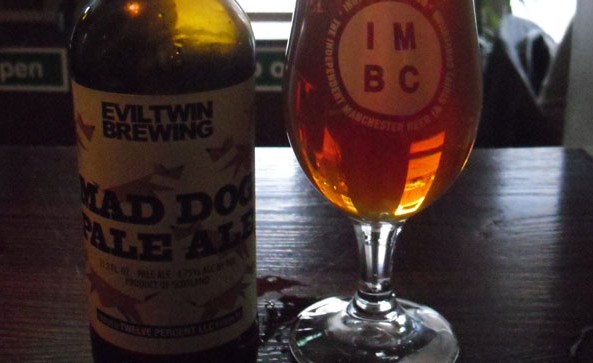 As the craft beer revolution gathers pace more and more good beer is reaching British shores from Scandinavia. Mikkeller set down the benchmark for quality craft beer from the region releasing ground breaking beers such as Beer Geek Breakfast, an exceptional Oatmeal stout. Others followed such as Nogne and Haandbryggeriet from Norway and Hornbeer and Evil Twin from Denmark. Some of these breweries are really hard to come by in the UK but thankfully Port Street are sourcing more and more gems from the area.
Evil Twin comes from particularly good beer stock being the brainchild of the brother of the man behind Mikkeller. Like Mikkeller, Evil Twin is a gypsy brewer, brewing his beers at such luminaries of the beer world as De Molen and Brewdog. Evil Twin states that his mission is to disturb, cause disorder and enlighten drinkers with his beers. I would go further and say Evil Twin are making beer fun with such ridiculously named beers as 'The Talented Mr Orangutan' and 'Christmas Eve in a New York City Hotel Room'.
Despite the crazily named beers Evil Twin shouldn't be dismissed and considered a novelty brewer as he is making great stuff. Probably the most interesting Evil Twin beer to date has been the Imperial Taiji, (recently renamed simply as Yin and Yang) a combination of Yin, an exceptional imperial stout and Yang a super hopped double IPA. The combination of the two beers created a moreish hoppy stout which works incredibly well. Both beers were brewed at Brewdog like the latest Evil Twin offering at Port Street, Mad Dog Pale Ale.
Mad Dog is an easy drinking offering from Evil Twin and is a good introduction to the brewery. It doesn't have the high ABV of Ying and Yang but is still packed with flavour and is unique in its own right. It pours pale amber and has a nice slightly frothy white head. The aroma is light and hoppy with both floral and fruit notes which hint at the tastes to come. Upon tasting, first the sweetness comes to the fore and there are clear hints of citrus fruits and spices. When the sweetness subsides it is replaced by a long, bitter finish which will definitely meet with the approval of hop heads. Mad Dog doesn't fit the stereotype of the typical American Pale Ale and is surprisingly bitter for such a low strength beer. It is a nice starting point for exploring the Evil Twin Range before trying the big hitters such as Yin and Yang and some of the magnificent imperial stouts which the brewery is producing. I have tried some of the breweries stouts and haven't been disappointed yet. Even More Jesus, the latest Imperial Stout from the brewery is definitely on my to-drink list next time I'm in Port Street.
If you haven't tried any offerings from Evil Twin, give them a go. You will not be disappointed.
Brewer: Evil Twin
Brew: Mad Dog Pale Ale
Style: Pale Ale
ABV: 4.7 %