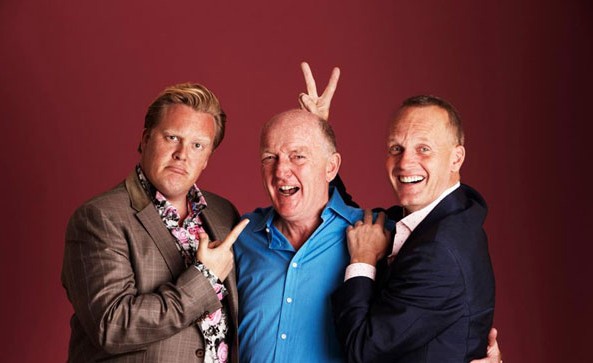 On Saturday 1st and Sunday 2nd December we will be taking Portable Street Beer House down to the Three Wine Men event at MOSI, Manchester
If you dont't know what or who Three Wine Men are, then you can read plenty more about them via their website. Basically it's a big wine tasting event run by Olly Smith, Oz Clarke and Tim Atkin, the event is a first for us, but should be a lot of fun. Tickets are £20 for each session and can be purchased here.
Throughout the 'Three Wine Men' event, we will be showcasing three of our favourite breweries on 'Portable Street Beer House' which is a portable version of our fabulous venue. Featuring six taps serving the freshest beer around. We will be hosting beers from the following breweries…
Magic Rock, Huddersfield
"Magic Rock Brewing Co. is the result of three peoples passion for beer. Brothers Richard and Jonny Burhouse* aided by head brewer Stuart Ross were inspired to start the brewery by their love of great beer and the burgeoning U.S craft beer scene in particular. Driven by a desire to bring exciting characterful beers to their local market and beyond, brewing commenced mid 2011. (*Jonny sold his shareholding to Richard in late 2011).
Initial reaction to the beers exceeded expectations and a fantastic first six months culminated in the brewery being named '2nd best new brewery in the world 2012′ on the independent ratings site Rate Beer. To meet demand capacity was increased twice in the first year with additional 16bbl fermenting vessels added in October 2011 and again in January 2012. Due to the strength of demand for keg products from both home and abroad two 6bbl conditioning tanks were also modified to meet demand. Current production stands at around 35bbl per week with more expansion due late 2012.
At Magic Rock we are committed to making a full range of modern, flavourful, hop forward & 'big' beers using the best available ingredients and techniques for drinkers unwilling to compromise on flavour. This uncompromising attitude runs through all our beers, where we seek flavour and complexity whilst striving for balance and drink-ability. We intend to deliver a taste experience to our customers which is magically removed from the mundane. To excite and enthral and to educate people to the flavour possibilities of beer. We understand that you don't have time for bland, flavourless beers because neither have we.
Our beers are available in cask and keg because we think that different dispense suits different beers. We also bottle our beers because we like drinking them at home.
We make beer the same but different, conjured for flavour; beer which will inspire and delight but above all taste great.. Welcome to the Magic."
http://www.magicrockbrewing.com/
___________________________
Summer Wine Brewery, Holmfirth
"Summer Wine Brewery was started in the Autumn of 2008 by Managing Director Andy Baker, Head Brewer James Farran & Meyrick Kirk.
Since our inception four years ago we have evolved immeasurably and now produce a vast range of beers in Keg, Cask and Bottle and export to several countries around the globe.
We are a brewery with an extreme passion, a strong identity and a desire to experiment. We are unapologetic in producing beers that are flavour forward, laden with the best ingredients and occasionally push the boundaries of what is possible when brewing beer.
Our beers range from Barista – an espresso laden stout through to Maelstrom Double IPA packed full of the finest US hops. In between, you will find Cohort – a Double Black IPA brewed with rye malt and Belgian yeast and our flagship pales ales Oregon Pale Ale and Diablo IPA, complimented by Teleporter a 10 malt porter and Rouge Hop – a slightly sweet and hoppy red ale
Our past experimental brews have included KopiKat Imperial Stout brewed with Kopi Luwak, Blue Mountain & Kenyan Peaberry Coffee & Madagascan Vanilla Pods. Dr Paracelsus Bombastic Elixir brewed with Turkish Pepper, Liquorice Root, Black Cardamoms & Fresh Blackcurrants. Calico Jack Imperial Jamaican Stout brewed with Root Ginger, Cacao Powder and Hemp."
http://www.summerwinebrewery.co.uk/
___________________________
RedWillow, Macclesfield
"RedWillow Brewery was started by Toby and Caroline in late 2010. Toby started brewing as a hobby, which rapidly developed into an obsession and then a business. We have a simple aim, to brew the types of beer that we like to drink and have fun doing so. Along side our mainstay of hoppy, well balanced and drinkable beers, our love of flavour and food occasionally manifests itself with a rather eclectic choice of ingredients:
– An Oyster Stout brewed with hundreds of freshly shucked Oysters
– A Smoked Porter made with Mexican Chipotles
– A Chocolate Stout made with 85% Coca single origin Columbia Chocolate
To indulge our whimsical side we have the experimental Faithless range of beers which have included:
– A Thai Wheat Beer with Lemon Grass, Galangal, Coriander, Tamarind and a hint of Chilli
– A 'Gin and Tonic' Saison with Lemon grass and Juniper Berries
– A Lambic Sour Cherry Chocolate Stout currently ageing in Rioja Barrels
Since we started we have been honoured to have won Champion Beer of Cheshire 2011, SIBA North Gold 2011 in Premium Bitters, SIBA National Gold 2012 in Premium Bitters, SIBA National Silver in Overall Supreme Champion 2012 and most recently we were shortlisted for the BBC Radio 4 Food and Farming awards in the best drinks producer category.
Our philosophy is simple, share your passion, take would you do seriously, but never yourself."
http://www.redwillowbrewery.com/