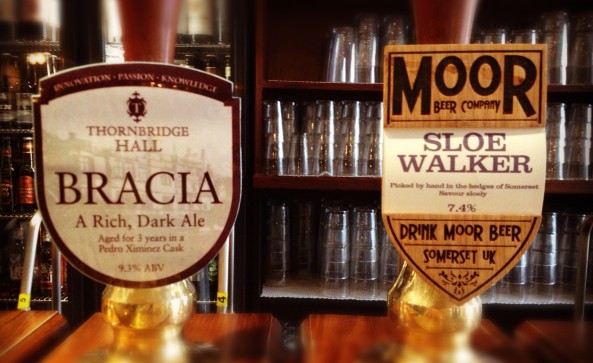 We have couple of special super-limited beers on the bar today.
Firstly, available for a very limited period is Thornbridge Bracia aged for 3 years in Pedro Ximinez casks. Thornbridge's multi award winning, much lauded beer, the brainchild of their recently departed head brewer Steffano Cossi. The strong, dark, old ale/stout is a triumph in it's bottle conditioned form, but we have one of a few casks of a barrel aged version, the choice of barrel was the famous Pedro Ximinez sherry casks. The PX sherry is famed for it's deep almost treacle sweetness, with lots of dark and stewed fruit flavours along with deep oak flavours from the wood combine with the ale to give a complex and very refined finish to the beer. Definitely one to try while it's here, just sip at a third and enjoy.
Also while we're on the subject of big beers, we have one firkin of Moor Beer's 'Sloe Walker', another prize winning beer given a twist, a seasonal version of Old Freddy Walker, with sloes surprisingly enough. After a days foraging, a whole bunch of sloes are cleaned, frozen and pricked then weighed out and distributed among 10 casks, the beer is then racked over the top and left to mature for several months. The result gives a subtle acidity counterbalancing the bold flavours of the beer, it's recommended you leave it to warm up a little to allow the flavours to really come out.
Words by Jonathan Heyes