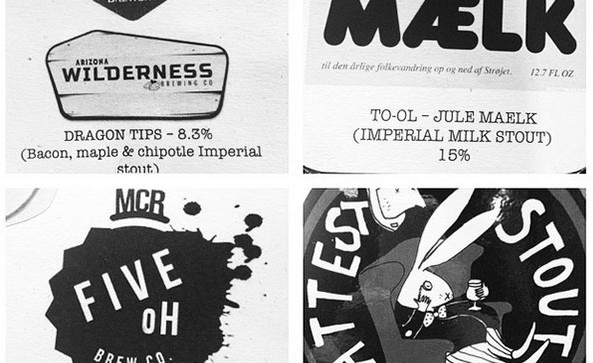 To kick off our Old & Dark week we celebrated National Stout Day on the 6th November. Naturally, we unleashed some of the biggest and best stouts we could lay our hands on from the depths of our cellar. These included To Øl's 'Jule Maelk' – A hefty 15% sweet milk stout, Evil Twin's 'Imperial Doughnut Break' – An Imperial doughnut porter, Buxton & Arizona Wilderness' 'Dragon Tips' – A maple, bacon and chipotle stout amongst others.
My personal favourite of the night was Mad Hatter's 'Fattest Stout' on cask. Heaps of dark fruit, roasted coffee and filling you with an alcohol warmth that makes you forget summer ever existed. There is also something that makes me feel quite rebellious about drinking an 11% beer from the old hand-pull.
Throughout the course of the week we saw some of our favourite styles turn to the dark side. The IMBC and Weird Beard collaboration 'Hacienda' was one of them, a strong black Saison brewed with Orange peel. Pretty mind boggling at first, the aroma was cocoa nibs and roasted malts, but to taste, the orange zest and funk come through straight away, leaving you with a earthy spiced after taste.
Drinking 10% imperial stouts all night is all well and good, but what about when your cat needs feeding? What about when you need to count your change getting on to the 192? What about when you need to walk? Well, our pals at Quantum have got you covered. Still on the taps now, they've brewed a super fresh, super sharp black berliner weisse. 'Berliner Schwarz' is 2.5% and it makes you feel really great.
Over all, Old and Dark week was a great success. We welcomed back some firm favourites and discovered same darn good newbies. Some of the beers mentioned and more are still available on the bar but generally, the pale ale drinkers of Manchester can breathe a sigh of relief and sleep easy tonight. It's all over.. Until next year.
Next up: Buxton Tap Takeover Tuesday 9th December / 6pm
Words by Leona Norbury