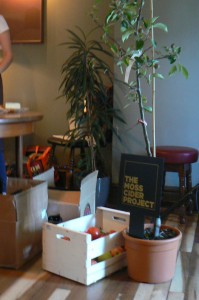 On Tuesday 24th of May we held our first ticketed event, an evening of Cider and Cheese with The Moss Cider Project. The room was set up beautifully, the guests filtered in and the fun began. After a brief introduction by the charming Dan Hasler, the tastings kicked off. Some expertly chosen cheese from Emma Cormack & Kate Ward matched the ciders put forward by ourselves. The Brie & Hovis with Dunkertons combo was my personal favourite, but many people would argue that.
The ciders tasted covered all the bases. Firstly Dunkertons, a 7.2% Organic real cider from Herefordshire. Basically think summer orchards in a glass, medium dry with a touch of oak.
Secondly Original Sin from NYC. A great 5.5% 'hard cider' from the most vibrant city in the world. It has great bubbly mouth feel due to the champagne yeast and a light balanced flavour.
Finally we tasted the Moss Cider, a hefty 6.5% that tasted like biting into a granny smith. The depth of flavour was really impressive. You could almost taste every apple pressed into it.
The evening was finished off with a presentation about the story of Moss Cider. It's a great community project that started in a back alley in Moss Side, the aim to mash unwanted fruit into cider and build community spirit, through a product everyone could be proud of.
We are chuffed with how the event worked and how everyone seemed to have a great time. A big thank you to the people who came & enjoyed this great event with us & everyone who helped out.
Here is a short video from Message Creative showing how much fun we had at the Moss Cider tasting event… here's to more!
Mosscider Tasting from Message Creative on Vimeo.