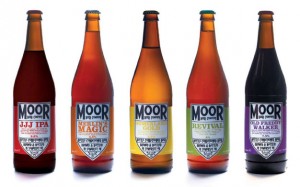 Well, we finally managed to organise getting some beer from one of the UK's most highly regarded breweries, so here are a few words to give you an idea of what the fuss is all about. I had better write this pretty quick as the beer is practically walking out the door.
Tucked away, down a picturesque Somerset lane is the recently expanded Moor brewery, the brewer is one Justin Hawke, an American brewing there since taking over in 2007. Justin's beers are multi award winning and it's a struggle to get them out of the county, so we feel very privileged that he sent some up for us. His Californian roots and west coast brewing attitude are evidenced in these beers, particularly in his liberal use of hops. However, these are far from US clone beers, these are some of the finest contemporary English ales you are likely to find, packed with flavour, a perfect blend of innovation and tradition. That, I suppose is what has lead to such huge demand, accolades, awards and general all round kudos.
Justin, it strikes me, is a man of strongly held beliefs, which, admittedly is prevalent among brewers. One of these beliefs is about finings and the use thereof, Justin speaks at length about this here. We're happy to be showcasing some of his unfined beers over the next week or so, all his dark beers are unfined and we have waiting in our cellar a couple of firkins of unfined Revival. So how important is a clear pint of beer to you? Finings inevitably strip out a lot of flavour giving funk from the beer and it could be said this is purely for aesthetic reasons. Why go to all the trouble of making a full flavoured beer only to fine it clear and lose some of the character, I suppose it's the same argument brewers have about filtration, pasturisation, etc but taken one stage further. Please let us know what you think on the subject and what you think of the unfined beers we have from Moor, and whether you want to see more unfined beers on the bar.
Finally before you ask we weren't able to get any of the famous JJJ IPA as there isn't any, potentially until next year. Maybe we'll try and get some Moor beers next year, if he'll let us! Boom boom.