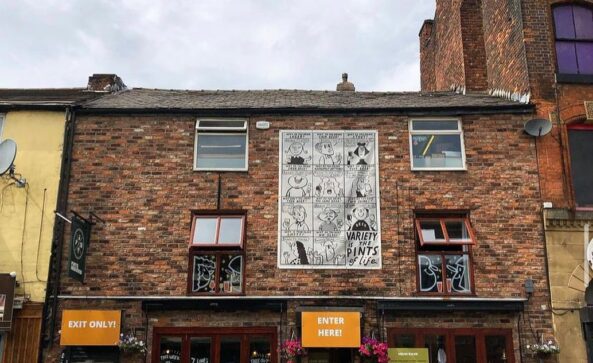 With the constant alterations to legislation over the past 18 months, one of the most difficult things about that tinkering for bars and restaurants has been the different levels everyone visiting have been on: from those who are super vigilant, through to those who can't wait to throw off the shackles. Though we've been re-open for a while now, even in the last week we've had visitors coming to us for their first night out in the best part of a year. Those people who've waited cautiously for a first proper pint will have been sharing a bar with others who have been fully enjoying their freedoms since the moment our doors re-opened earlier in the year, and everything in between. Our job now is to ensure that all of those groups are able to have a good time with us, and that they're able to do so in a way that feels safe and appropriate.
No matter what your headspace is about everything that is going on when you visit us, we want you to be able to socialise in a way that acknowledges the liberties we've now been afforded, while protecting our staff, our customers, and our community.
What that means for you is that:
Our staff will continue to wear face masks at all time while on shift, and we'll be keeping our protective screens up at the bar

We will continue to have a limit on our indoor seating capacity, so as to avoid overcrowding

For the time being, we'll be keeping our screen dividers up between seats

We'll be ensuring our venues are as well ventilated as each space allows

Our levels of sanitisation and hygiene will remain the same, with tables cleaned between customers and each site cleaned in full each day

Our app will still be the main way in which drinks are ordered – both to avoid congestion at the bar, and for an overall better customer experience.

We ask that customers give one another space in all situations, and continue to wash your hands thoroughly

We encourage customers to wear face masks while moving around our venues. 
As always, we'll be reviewing our policies over the coming weeks, and fine tuning them to fit the wants and needs of everyone involved. If you have any questions, comments, or issues, you can get in touch on matthew@commonandco.co.uk
Comments are closed.