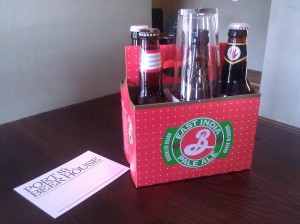 Here at Port Street we like to bring you great beers. It's what we do best and essentially what we stand for. However there are times when we are not open, you may have prior arrangements or you fancy a night in, in-front of the telly. No need to fret, now you can take a bit of us home with you in the form of a hamper.
We have put together three different ones varying in price. These all come with a stamped glass and start at a measly £17.50 for 6 well selected, crafty beers.
Imagine a night in with one of these badboys, or as a gift to your old man/woman. Great stuff.
Hampers as follows;
Level 1/ £17.50
Brooklyn Lager
Samuel Adams
Anchor Steam
Goose Island Honkers
Brewdog Trashy Blonde
Little Creatures
Level 2/22.50
Brooklyn East India Pale Ale
Odell Cutthroat Porter
Goose Island Pepe Nero
Del Borgo Real Extra
Odell I.P.A
Uinta Anglers Pale Ale
Level 3/£30.00
Sierra Nevada Bigfoot
Odell Red Ale
Westmalle Tripel
Victory Storm King
Cantillion Gueuze
Abayye De Rochs