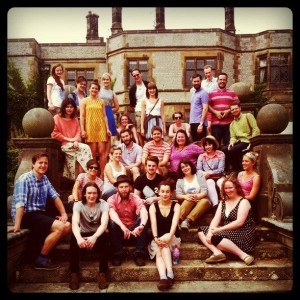 Some of the more avid followers among you, may have noticed that last week, the lucky staff of both Port Street Beer House and our older, yet less grown up 'sister bar', Common, went on a bit of a staff jaunt to Thornbridge Brewery. Yes not only do we close our doors to such wonderfully loyal patrons on a Monday, but sometimes take it upon ourselves to do something thoroughly enjoyable in the name of staff bonding instead!
The previous week we were given an itinerary for the trip. Details included meeting at Common at 10am on the dot, a coach ride to Bakewell for a picnic by the river (where the owners Jonny and Charlotte would judge our packed lunch efforts and award prizes for the best) and then on to Thornbridge Brewery, for the important stuff; talking about the beer, seeing the beer being made, and most importantly drinking (or do I mean tasting?) the beer of one of the most well respected craft brewers this country has to offer. Come Monday morning, with the sun gloriously shining, the rascals among us fighting for the back seats of the coach and the boss shouting out our names from the front. YES IT WAS GOING TO BE A GOOD DAY!
Living in Manchester, you sometimes forget about 'this green and pleasant land' that we live in. But once on our way, outside the often claustrophobic urban sprawl it became apparent that we would see plenty of it's beauty today and this was just another bonus of the trip. We got to the bustling centre of Bakewell around midday and were dropped off at the river to enjoy our culinary masterpieces. Some had been busying themselves making their pack lunches the day before and the rest had busy been buying theirs before getting on the coach that morning. After sharing these delights and even having enough time for a quick paddle in the river (how twee are we!). We got back onto the coach and made our way to Thornbridge Brewery, situated just a few moments away from the heart of Bakewell, at the Riverside Business Park. We were greeted by the sales and marketing team, which for those of us who regularly speak to them on the phone, it was good to put faces to names, or should I say to voices. After these initial pleasantries, it was suggested by Alex, Thornbridge's Marketing Manager and also our lucky tour guide for the day, that we have a beer. Of course he didn't need to ask us twice, after all we had just had lunch and it was a baking hot day, so we needed something to quench the thirst.
The offerings were the multi award winning IPA Jaipur on cask and the newly released Versa, which is a Bavarian style Weisse Beer, on draft. Having never tasted Versa, many of us went straight for this and it went down beautifully in the hot weather. Really refreshing and smooth, with plenty of the banana and bubblegum notes traditionally associated with this style of beer, but finishing with a spiciness of cloves that lingered on the tongue.
The beers were swiftly finished and Alex got us together to explain how the tour would unfold. He also told us about the relatively brief, yet successful history of Thornbridge as well as how it functions today compared to its conception back in 2004 at Thornbridge Hall. Although not a brewer himself, he was able to explain in layman terms the careful consideration of ingredients that goes in to the brewing of beers at Thornbridge. Whilst doing so he began to take out various malts and hops for us to look at, smell, and taste. Although I think a number of us didn't hear that it was the malts that were good to taste rather than the bitter dried hops, mmmm tasty! We were then split into two groups and taken into the brewery itself!
(Find out more about the tour late on this week….)