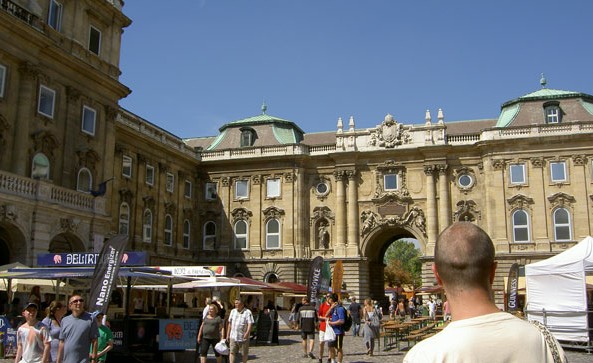 When people think of Hungary they think of amazing architecture and possibly good wine but certainly not beer. Hungarians keep most of their best wine for the domestic market and don't seem to export their beer. By chance my visit to Hungary coincided with the Sorfesztival, a celebration of Hungarian mainstream and craft beer, also offering some decent stuff from Belgium, Germany, the Czech Republic and even Brewdog. The majority of Hungarians seem to drink lager and dunkel style beers but under the surface there is a growing interest in craft beer and small breweries are experimenting with less traditional styles.
The Sorfesztival (29 Aug- 2 Sep) took place in the spectacular location of Budapest castle, east of the river Danube in the Buda part of the city. The castle was worth exploring and its courtyards provided an ideal backdrop for the beer festival. Each brewery had its own wooden stall with the majority serving draft beer and the odd one offering bottles. So was the beer any good? Well the majority was pretty average but one or 2 offerings were worth seeking out. Armando Otchoa runs the beer shop Csak a Jo Sor (Only good beer) and his Grabanc IPA was supposed to be available at the festival. Despite searching every inch of the courtyard, disappointingly I couldn't track it down. When I met Armando a few days later he informed me that his latest batch wasn't ready for the festival and would only be available after I had left town! I started the festival with Sefforas IPA; the first IPA brewed in Hungary and a pretty flat, watery affair on this showing. Next up was Koleses Sor, a pale, refreshing beer ideal for the hot weather.
The festival took a turn for the better with a visit to the Bors brewery stand. Despite all their beers being bizarrely named after characters from Robin Hood, they certainly seemed to make some of the more interesting craft beers available in Hungary. On draft Little John pale ale was a bit cloudy but still had plenty of flavour. The bottle version was even better, a bit yeasty with nice hints of fruit. Tuck Barat a Belgian style double, was a tasty, well-balanced affair with hints of caramel and dark fruit. The Bors brewery is still a work in progress but they are definitely a brewery worth watching and their beers are well worth trying. Next, the Gyertyanos Kriek was a nasty cherry beer best avoided. This was followed by Buza from Szeles and Szeles, an instantly forgettable wheat beer sold in plastic bottles by the likeable brewer.
The beer of the festival and probably the best Hungarian craft beer of the trip was Keseru Mez brewed by Foti. This was a well-balanced, honeyed beer with fruit notes and a subtle hop bite which was quite moreish. It was popular with the locals in Skanzenclub and also came in decent 500ml bottles. The Sorfestival cost £7 including a couple of beers and was an enjoyable affair and a good introduction to Hungarian craft beer. It also provided a chance to wander round the grounds of the fantastic castle. The Hungarian scene is still in its infancy but a couple of breweries have the potential to up their game and enter the export market. Budapest does have some great bars worth visiting to escape the generic mass produced lagers that dominate the city. Csak a Jo Sor is a small but excellent beer shop/pub run by the knowledgeable Armando. The shop sells some of the best Hungarian beer and also has a good selection of craft beer from heavyweights including De Molen, Brewdog and Flying Dog at very reasonable prices. The fruit beers from the Bekesszentandrasi brewery were definitely worth trying, especially the plum beer which was extremely refreshing after traipsing round in the hot summer sun. Other places worth checking out in Budapest include Skanzenclub, Bier Beer, Piratos Pub and the IF Café. Skanzenclub in particular was really fun. It is an unlicensed pub which doubles as a tobacco museum where you pour your own pint and pay for it in a collection tin. The bar served really good draft Kesuru Mez and the local crowd were very friendly. Budapest is certainly a great city to visit and although the Hungarian craft beer scene is very much a work in progress, if you search around you might find something worth drinking.
Words by Niall Lecoustre