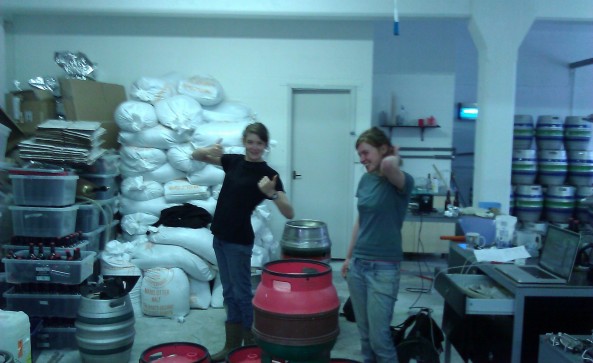 Monday morning and it's time for our first collaboration. Myself and two budding brewsters are off to Macclesfield to brew a beer for the 'Meet The Brewer' event with Toby Mckenzie and Red Willow on the 26th September. We had bounced around a few ideas prior to the visit and settled on a 8% wheat beer for Oktoberfest with a twist. After coffee we jumped on the train to meet Toby, we arrived at the haunt of the small brewer, an industrial unit. Labour intensive work has been exchanged for alchemy in many of the North West's units, but brewing is probably a lot harder work then servicing peoples car repair needs, as we were going to find out.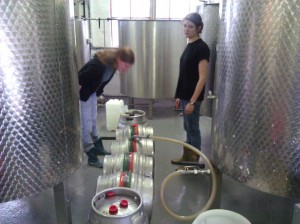 The malt and wheat were sorted as our sugar source, the big question was the hop. Which shall we use? We crumbled and sniffed a few, the mighty Simcoe, the rubbery challenger and the citrusy Galaxy. We then have a good sniff of the Nelson Sauvin from New Zealand, this hop is 'amazing' this year says Toby. The aromas are gooseberries, lime skin and grass. It's a hop commonly used at the moment as a nice change to the now mundane American varieties. The hop's characters bring a fruitiness to beer that is often compared with cool climate vino and can be used to add subtle bitterness or big finishing aromas.
It was time to mash in, I loaded the hopper while Alex and Rose stirred the mash, this was the first exciting steps to our beer. This mash was now sparged and we indulged in a bit of brewers breakfast, tasting the sweet wort to test the flavour and giving ourselves a massive sugar rush. This was transferred into the kettle to boil. It was then time to tot up the hop additions, we were going for about 40 IBUs, this is low for many pale ales, but we wanted the yeast flavours to shine through and have more hops added later for aroma not bitterness. It was a 60 minute boil with four hop additions, each getting larger. The final hop addition was at turn off, Toby says this is 'the most important for aroma'. The liquor was passed through a heat exchange to cool it and to allow the final addition to really add massive amounts of aromatic flavours.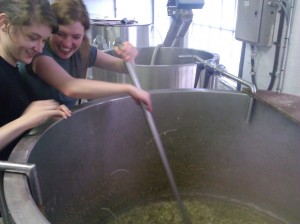 While this was taking place I cleaned fermenter number four whilst Rose was digging out the mash and Alex cleaned the barrels, we were emerging as brewers, if just for a day! Hats off to Toby, he does everything on his own whilst juggling orders, a wife and two children, whose names make up the breweries.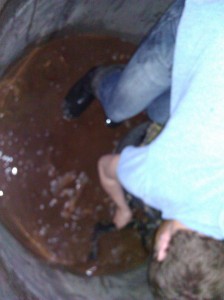 The beer was transferred to a sparkling fermenting vessel, the yeast was then added, a special chain to bring forward the great flavours that are produced as waste from the yeast's metabolism. Ale and lager yeast generally add very little flavour unlike like wheat beer yeast. This will be in suspension throughout the beer to give notes of carefully controlled bubble-gum & banana.
I cant wait to taste this beer, it's a pretty bonkers style, loosely based on Schneider's and Brooklyn's Hopfen Weisse. You don't need more of an excuse to come down to meet Red Willow, not only are they making some of the best session ales around they are pushing the boundaries of what is thought possible in beer making.
We just have to thank Toby for allowing three reprobates to come down and create something very special.
Thank you Red Willow.