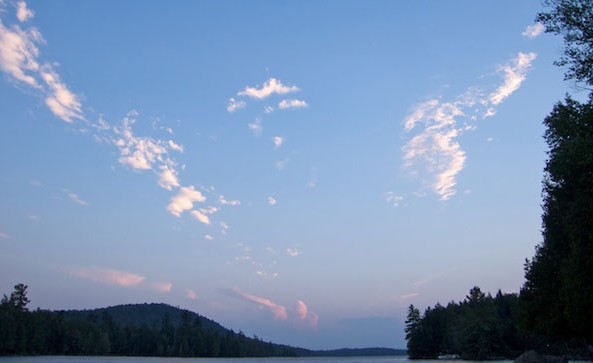 A taster of the Northeast/New England's beer offerings
The story of US micro brewing or craft breweries usually goes something like this: homebrewing became legal in 1978 and within a few years, US homebrewers started opening their microbreweries and it exploded from there, with their beer styles eventually crossing the Atlantic and strongly influencing the latest generations of microbreweries starting up here. However, on a recent graduation-related trip to the USA, the better half and myself found that particularly in the Northeastern US, this is far from the whole story: in fact it's somewhat backwards.
In this article, we will relate a very cursory history of how many early USA microbreweries and brewpubs looked to the UK to get their start, of our lasting influence on their micro breweries, brewing techniques, and beer styles and then a little about the breweries we got to visit and some of the beers we tasted (all in the name of research, of course, as we're keen homebrewers ourselves).
Particularly influential in New England and the Northeast has been UK ex-pat and University of Manchester graduate Alan Pugsley. After graduating with a degree in biochemistry, and with no clear idea of a career, he began working with Peter Austin who had brewed at the North Country brewery in Hull for decades, before retiring and opening his own Ringwood Brewery in Hampshire in 1978. It was one of the earliest UK microwbreweries and its staple beer soon became Old Thumper, a pale ale, still popular to this day.
Austin relied on a yeast strain he'd brought with him from the brewery in Hull, which in turn had come originally from a brewery in Halifax. Now known as Ringwood yeast, it's a top-fermenting yeast consisting of two distinct strains: one fast to start fermenting, the other quick to flocculate (drop out of suspension in the wort yielding a clear "bright" beer). Like many traditional Yorkshire yeast strains it evolved to ferment in open vessels—the Yorkshire square being one famous example of an open fermentation vessel. Ales fermented in this manner gain greater flavour character from the yeast than those sealed into cylindroconical fermenters, often under pressure. However the yeast's flocculent nature means it often goes dormant before the wort is fully fermented and thus requires rousing either with a paddle (which is easy to do with an open fermenter) or via pumps and shower heads.
Open fermentation requires careful hygiene control due to the exposure to wild yeasts and bacteria in the air. Ringwood yeast quickly starts working its way through the wort sugars and hence out-competes unwanted air-borne yeasts. It also seals in the beer with a thick krausen crust, further protecting it until, after about a week, it can be racked from the bottom.
With the success of the Ringwood microbrewery, Austin and Pugsley consulted on setting up new breweries all over the world, including places as far afield as Nigeria, China and Russia. It was through this venture that Pugsley found himself in the USA.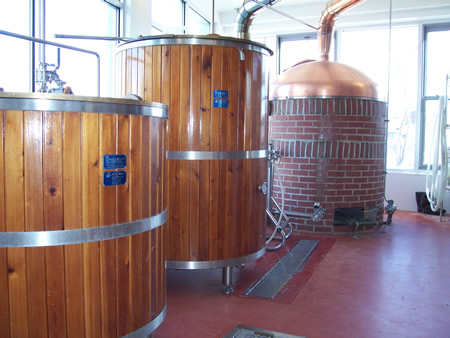 Gritty McDuffs, Portland, ME
They first helped set up Geary's in 1983 — at that time, there were only 13 microbreweries in the United States, almost all of them in the Western US. Geary's was New England's first microbrewery and Pugsley installed a Peter Austin brewhouse and helped design its first beer. Pugsley continued setting up Austin-style systems around the world, and launched Pugsley Brewing International, with the equipment prepared in the UK and then shipped to wherever the new brewery would be built, and then put together by Pugsley. Characteristic of Peter Austin brewing systems are the brick brew kettles with copper domes (see picture above) and of course the open fermenters, and the use of Ringwood yeast. The size of the brewing system may vary, but the brick kettle and open fermenters are standard components.
In the Northeast, Pugsley helped launch breweries such as Middle Ages Brewing Company, Gritty McDuff's (the first brewpub in Maine after Prohibition, opened in 1988), Montreal's McAuslan Brewing, which opened in 1989, The Golden Lion Pub and Brewery in Lenoxville, Quebec (brewing since 1986), Granite Brewery in Halifax, Nova Scotia and Toronto, and Magic Hat Brewing Co, and many more.
He went on to found Shipyard Brewing Company in Portland, ME in 1994, where he is still master brewer today. (More on which later.)
Middle Ages Brewing Company, in Syracuse, NY is one of Pugsley's influenced breweries. Owner and brew master Marc Rubenstein attended Pugsley's brewing school in Maine, and started Middle Ages in 1995. The brewery uses Ringwood yeast and open fermenters (see photo below), and produce a number of their beers for cask distribution. Ringwood lends itself to cask production, as the flocculent yeast drops out quickly. Middle Ages condition their beer at the brewery, to minimize cellaring problems in the bars that do accommodate cask ales. Annual production is 727,000 litres. Typically, US bars that do have a British beer engine will only have one or two, at most. (More of a cask vs. keg experience in a bit).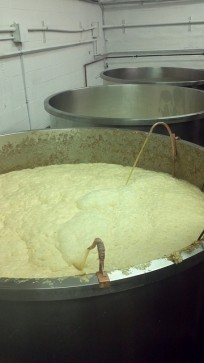 Middle Ages' fermenters. (Courtesy of Chad Meigs)
Visiting the Middle Ages brewery is always fun, and became a perk whilst I was a post-graduate student in Syracuse. Because it's not a brewpub, New York licensing laws do not allow it to sell beer, but it can offer samples in its tap room and shop.
While the sampling cups are small, they are constantly refilled, and most punters turn up with their growlers (see picture below), to have filled and take home. The shop also sells six packs, mixed cases, and 650 ml bottles. Between eight and ten beers are available for tasting, and a further five more for "growler" fills only. These lovely vessels hold about 3.5 UK pints, and are best consumed within a day or two of opening, as some of the fizz does escape.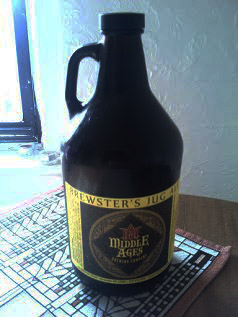 A Middle Ages "Growler"
On Friday and Saturday afternoons, the tasting room is usually packed with a crowd of regulars, and it's easy to while an hour away, sampling and re-sampling beers, whilst having a chat. The beers have rather whimsical names (the owners are Monty Python fans, apparently), "Wailing Wench" is the flag ship strong ale, at 8% ABV, and "screaming with hops." It seems my hop tolerance or palate has grown by leaps and bounds, because I didn't find it especially hoppy, but the mouthfeel and overall wonderfully balanced flavours are just right. Goes down rather easily, which, given the need for driving in smaller US towns and cities is not advisable. Another favourite: "ImPaled Ale." Not surprisingly, it's an IPA, and ever so drinkable, though at 6.5% not exactly a session beer, or not a typical session beer, perhaps—full of delicious cascade hoppiness.
I think we particularly enjoyed the Apricot Pale Ale (4.5%, their weakest offering), Winter Wheat (6.3% subtly spicy), ImPaled Ale… and then had the growler filled with their "Tenth Anniversary" American Double IPA. Ten American hop additions are made during the brew, making for a deliciously hoppy IPA (10% ABV). If you find yourself in Syracuse, do pay them a visit. You may not remember all the beer you tasted, and require a designated driver or taxi, but it's well worth the effort.
Graduation engagements, unfortunately, got in the way of us attending a 25-cask beer festival (see picture below) at another local establishment — of course cask remains a bit of a curiosity there, but it's interesting to see that breweries as well as consumers are increasingly keen to try cask, a trend worth watching.
At this point, a slight tangent: beer pricing in the US. It can be summed up thusly: if you buy beer at the off licence or supermarket, it's generally pretty affordable, especially if it is locally (a slightly loose interpretation of local, Northeastern US is probably more accurate) micro brewed beer (Middle Ages, Ithaca Brewing Company, Long Trail Brewing Company six packs all ranged between $8 and $11), while Dogfish Head's 90 Minute IPA clocked in at about $15 for a four-pack. If you're investing in "bombers" (650 ml bottles), prices can vary greatly, but we found Brooklyn's Sorachi Ace for $7.49 at an off licence, but if your choice comes from further afield, then not surprisingly, it will be pricier. Overpriced, at $20+ was a Sam Adams seasonal, which we were tempted by, but the helpful salesperson at an extraordinary petrol station said it wasn't worth the money. Sorted, Sam Adams skipped. The petrol station was extraordinary indeed, with its huge beer selection, including Lagunitas, Jolly Pumpkin, Pretty Things, Dogfish Head, Great Divide, oodles of Mikkeller, Nørrebro, Unibroue, and many, many more. The number 800, as in 800 bottles in stock, seems to have been mentioned. Spoiled for choice.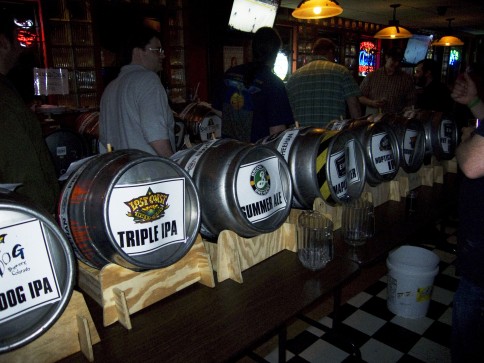 Cask beer festival, Syracuse (Photo by James Marsh)
However, if you're out and about for a drink, even in the "sticks" of upstate New York, and want to drink good beer, hang on to your wallet. Typical price for a US pint (473 ml) was $6.00, or about £3.85. However, we found pints up to $8.50, or £5.46 a go—these were mainly the cask beers and other specials, but still, a hefty price tag. Pitchers are pretty economical as they are nearly 3.8 UK pints, and prices ranged from $9 to $16.50. (I'm also not fond of televisions in pubs or bars, and have entertained the thought of compiling a list of pubs across the US that do not have a television. That list would probably very short indeed.)
Enough of prices, more of beer! On to the cask vs. keg comparison: One evening, I chose a pint of Ithaca Brewing Company's  "CascaZilla." Perhaps the name should have clued me in from the start: have it on cask! Ithaca Brewing Company started in 1998, in Ithaca, NY, which is home to Cornell University and located in the Finger Lakes region, generally known for wine. However, the "casca" part in the name refers to a gorge in Ithaca called Cascadilla, not "cask," and the "zilla" part is due to the "monster" amounts of Cascade, Crystal, and Chinook hops used in this hoppy red ale. It's further dry hopped with Amarillo and more Cascade. On keg it was OK, though it seemed a bit muddy to me and not much more than the bittering hop character emerged. I soon switched to ImPaled Ale and gave little more thought to CascaZilla. Fast forward two days, in another bar, CascaZilla is on cask. And it was nothing short of amazing! The hops seemed to jump right out of the glass, and it was just at the right temperature, with a great, rich mouthfeel. Sparklers aren't very common over there, so the only thing lacking was the creamy mothfeel. At 7%, it didn't seem overly boozy, certainly not on keg, but neither in its cask iteration. Possibly one of the best beer experiences of the trip.
As our journey continued to Vermont, we called in at Long Trail Brewing Company, in Bridgewater Corners. Founded in 1989, their unfiltered yet bright Traditional IPA (5.9%) is delicious, made with Nugget and Cascade. The Double IPA (8.6%, 86 IBUs) does not taste as strong as it is, and the Chinook and Cascade hops give it a surprisingly sweet hoppy taste. Another treat: The Pale Ale (5.7%, 35 IBUs) features Centennial and Cascade, and is wonderfully refreshing. Widely available in New England, northeastern US, and Virginia. Long Trail subscribe to ECO Brew, Environmentally Conscious Operations, recycling and reusing materials as much as possible. Up a flight of stairs, the visitor can access the brew house for a little self-guided tour. Upon entering, the bottling line is just below, and along the raised platform are information boards that detail the brewing process. Longtrail uses the typical conical fermenting vessels and had all its kit neatly labelled to facilitate the self-guided tour. Whether visitors can watch the brewing or bottling in action, I'm not sure, but it may be too noisy and dizzying to watch the bottling line.
Vermont is a veritable beer haven/heaven, considering only 600,000 people live in the entire state, with breweries such as Magic Hat Brewing Co, Otter Creek, and relative newcomers Hill Farmstead (one of the many US breweries now focusing on sour beers, cask ageing, etc., they have collaborated with Mikkel from Mikkeller…didn't get the chance to try it this time around, but it can be found in bigger markets such as Philadelphia, New York, and Boston. Do try it if you come across it.)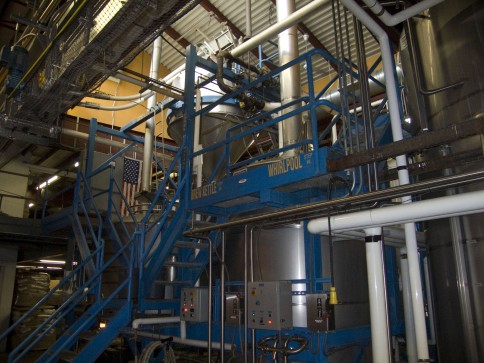 Harpoon Brewery (Photo by James Marsh)
We also visited the Windsor, Vermont plant of Harpoon Brewing Company, Harpoon bought this facility in 2000, where they brew 6.4 million litres of beer per year. (Not surprisingly, Harpoon ranked 8th in US craft brewing sales in 2010). While there wasn't a guided tour, again, a part of the brew house allowed the visitor to learn about Harpoon's operation, see the fermenters, hot liquor tanks, and bottling line. This operation is definitely high tech, compared to Peter Austin brewing systems.
Micro no more, but Harpoon IPA, also made with Cascade, goes down very easily (5.9%, 42 IBUs). I think they have improved the recipe since I drank it first in the late 1990s, or perhaps it's just my palate again? In any case, a solid option. Harpoon Leviathan, their Imperial IPA, is hopped with Centennial, Chinook, Simcoe, and Amarillo throughout the boil, and despite its 120 IBUs, this was not unpleasantly bitter at all. At 10%, however, it was not an option for me, the driver. Harpoon's UFO range, "UnFiltered Offerings," brewed since 1998, offered up a very nice Pale Ale, at 5.3% and with 34 IBUs, it is refreshing, clean-tasting, with a bitter finish. Very drinkable indeed. The UFO White was very biscuity, in fact, the torrified wheat flavours dominated it in the end. Definitely rather on the sweet spectrum of wheat beers (4.8%).
Following our stay in Vermont we headed off to Portland in Maine where Shipyard brews Old Thumper and Double Old Thumper under licence in the US. Shipyard's flagship tipple however is the Export Ale, which uses Cascade, Willamette, and Tettnang hops to create a 5.1% crisp golden coloured ale. While often served overly cold on keg (cask is also available in some locations) its British influence is unmistakeable with a good malt crispness. (Some of the "British Style" ESBs we tried elsewhere during the trip were bizarre to say the least.)
Pugsley's Signature Series was a delightful new discovery, clearly, a chance for Pugsley to play around with some bigger, bolder flavours and styles. One of the results is the XXXX IPA. Brewed with Cascade, Warrior, Nugget, and Glacier, this 9.25% IPA packs a grapefruity punch. Its won a few accolades, both nationally and internationally, and rightfully so.
If you're headed to New England or the Northeast you will not be lacking great beer choices and some will perhaps seem a bit closer in style to these shores than anticipated. In any event, you may only find yourself lacking enough time to sample as many as possible.
Words by Claudia Asch and James Marsh
Further reading:
http://huskyrunner.blogspot.co.uk/2010/04/ringwood-yeast-chroniclesthe-ballad-of.html
http://www.beerscribe.com/pugsley.html
http://www.brew-monkey.com/articles/interview.php?id=11
http://allaboutbeer.com/live-beer/people/pull-up-a-stool/2010/11/with-alan-pugsley/
http://grittys.com/brewery.php
Bryson, Lew. 2003. New York Breweries. Stackpole Books, Mechanicsburg, PA.
Crouch, Andy. 2006. The Good Beer Guide New England. University Press of New England, Lebanon, NH.