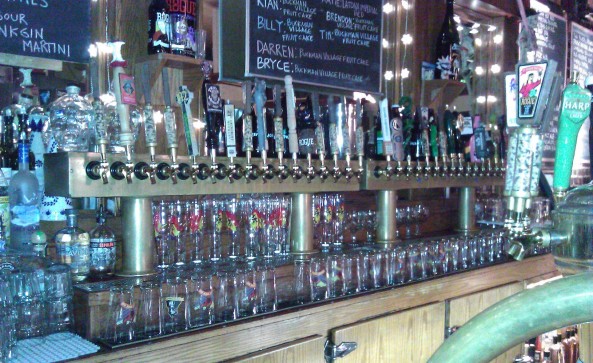 Well it's taken me a while to finish this off but here is the second instalment of my 'tales from the 'moon'. The amount of amazing beer around in San Fran is ridiculous, being a serious beer lover I was in heaven. Once we'd recovered from the long flight our first port of call (pun intended) was the 'Ferry Building', we started our day with some 'Blue Bottle' coffee, these artisan roasters really know what they're doing, the coffee was excellent. The Ferry Building houses a wealth of independent businesses selling everything from pottery to wine. That evening we booked into 'Foreign Cinema', an outdoor restaurant that projects films onto a large wall outside in the aching cool Mission district, we popped into the bar beforehand only to hear Stone Roses on the Jukebox, typical! I spied 'Lagunitas IPA', this now famous beer has been on the lips of craft beer geeks for a while now, so I thought I'd better see what all the fuss was about. To be fair, it was fantastic, no heavy caramel malt base and searingly hoppy, it was bordering on a perfect IPA and I don't say that lightly.
After dinner, on a recommendation from a bartender we hunted out 'Monks Kettle', a gastropub in the Mission District with an excellent draft menu, they even had J.W Lees on. I treated myself to a Existent, a saison noir brewed by Stillwater and from what I remember tasted great, it was getting late after all.
The next morning we hunted down Ritual Roasters, great coffee but alarmingly arrogant baristas, they took being aloof to the next level. We wandered down Valencia St, towards the Mission District to hunt out yet more coffee. We stumbled across Fourbarrel Coffee, the place was buzzing, coffee being hand roasted in the back, people sipping single origin coffee filter coffee out front, I loved that place. We then popped to Little Star Pizza, they served up potentially the best pizza I've ever eaten, all washed down with Bear Republic 'Racer 5' on draft. I've never been blown away by 'Racer 5' when I've come across it in the UK, but fresh on draft it was delightful, a harmonious balance of west coast hops, American pale & crystal malts.
That evening we were pretty pooped but I managed to drag the wife to the Rogue Tap in North Beach, it had the quintessential 'sports bar' vibe with baseball on big screens, not really my scene but we were there for the beer. I tucked into a couple of IPAs and then went for a beer recommended by the bartender, Buckman Village Fruitcake stout, a rich stout with loads of malt, stewed and candied fruit. I was really impressed with the customer service at Rogue, really polite and knowledgeable, but that was us done for the evening so we went to the shop, picked up a four-pack of Dogfish 90 minute, some Reese's and a weird Kit Kat, Dogfish from the off-licence!
On our penultimate day we went unto the Marina, a very OC type of area, lots a beautiful people and loads of high-end shops. We went for lunch in Delarosa, within minutes the manager and I were talking beers and weddings, I can't speak of the staff there highly enough, attentive and really well trained. The manger mentioned the beer I was drinking was by a brand new local brewery, it was a 'Squid Ink Black IPA' from 'Pacific Brewing Laboratory'. A heavily hopped black IPA with hints of tobacco and an amazing mouthfeel with squid ink to help with the colour. By chance Patrick Horn, the brewer, walked in doing the rounds and picking up empty barrels, the manager introduced me and he joined us for a healthy beery discussion. What a great guy, passionate and very knowledgeable, he even treated me to a half of his Hibiscus Saison, it was great stuff, dry, aromatic with a hint of astringency, not to mention it was bright pink. I've already been in touch with him about trying to get his beer over here, he's still only contract brewing but saving up for a kit of his own, one to watch for the future though.
After a lovely afternoon we went to another bar in North Beach called 'La Trappe Cafe', a pretty typical take on a Belgian cafe, dark, moody lighting, great beer & belgian frites and a great draft selection. Jolly Pumpkin, Pacific Brewing Lab, Brasserie d'Achouffe and Alvinne, I was instantly drawn to the latter having never seen it on draft in Europe never mind the states. I went for the Alvinne Sour and it came in at a handsome $14 for 8oz, less than a half a pint, not only that but it was served by a bartender with a serious attitude problem. When I tasted it, it was completely devoid of any condition or carbonation & yes it was sour, but an acrid sour, I didn't drink it. I went back to order Jolly Pumpkin Madrugada Obscura, which more than made up for the Alvinne's poor showing, a Belgian inspired stout matured in oak with wild yeast, what's not to like about that sentence? Absolutely amazing!
Our final day arrived and with this we went back to our favourite haunt again the Ferry Building. Here I had what was to be my favourite beer of the trip Green Flash 'Rayon Vert', this Belgian style pale ale had everything, a big hum from West Coast hops and the tang of Brett from the bottle conditioning. It was delicious, a real mash up of brewing traditions & techniques, basically what every American craft brewery stands for. Well that was the end of my days in San Francisco. Next stop NYC.
We will be featuring a couple of these beers in our American Festival:
Green Flash Rayon Vert in bottle.
Jolly Pumpkin Madrugada Obsura on draft.
Words by William France, dictated not read.