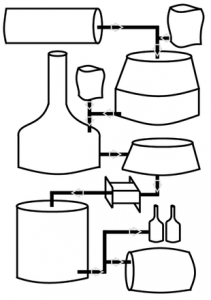 I got into brewing in my mid-twenties, brewing at home at first as I was short of cash and wanted to continue drinking decent beer. The learning curve is steep; I chose to get straight into all grain brewing and all the science surrounding it. The more I read, the more I understood. The more I understood, the more I practiced. The more I practiced, the better the results. I also discovered that what is needed more than just theory and scientific knowledge, was the confidence to do things differently and attempt to hypothesise the outcome, to explore different beer styles and use strange ingredients. Sometimes it worked, sometimes it failed, but the knowledge I gained was invaluable; I simply loved brewing, and the desire was there to brew on a larger scale.
Add on a couple of years, some scary commitments and a whole pace of life change and I'm sat typing this in a microbrewery – MY microbrewery. What became immediately apparent when taking on this venture was that it's not just about brewing. I'm sat in my office area with my back to all the myriad jobs which need doing – the constant cleaning, casks to be washed, bits of maintenance, people to call, admin to organise, stock to deliver – sometimes it seems like this job isn't much about brewing at all; it's easy to forget how far things have come when I'm caught up in the day to day stuff. I won't lie, it's been testing at times. From the initial lack of three-phase power to having to sort out the electrics myself after the electrician did a runner for a week (luckily I have some knowledge of electrical theory), it's sometimes been a struggle.
Only time will tell if I'll be successful or not, but as I have my back to all of these jobs, in front of me physically is a good luck card, at the bottom of which reads: "A successful person is one who can lay a firm foundation with the bricks that others throw at them." I don't envisage it getting easier, though thankfully I'm not a panicker, I have the ability to think logically in a seemingly catastrophic situation and most importantly there still remains the love of making and drinking good beer, which is why I got into brewing in the first place.
Words by Jay Krause / http://www.shawsbrewery.co.uk