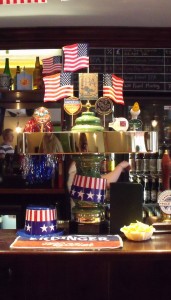 It's our first proper beer festival here at Port Street and what better way to start than celebrating the most creative craft brewing scene in the world. We launched the American Beer Festival on Monday 27th June with an intimate ticketed event. Around 60 of you came to sample the beer and helped turn the night into a celebration of all things American. We put on a few snacks, the cornbread in particular had mixed reactions, but overall went down a treat.
We had great talks and presentations from James Clay and Vertical Drinks, thanks very much for their support. The talks weren't too long or wordy, it was more about the beer! We love beer, not talking (ha)! Sampled for the first time in Manchester was Sierra Nevada Torpedo which is one of our favourite beers (see DJ Adams review of Torpedo coming tomorrow).
As you can see from the list below, we have a huge array of new and exciting beers for you to try. Please note as this list was published some of the stock may have gone. Remember we have our American BBQ THIS Sunday 3rd July starting at 1pm. Its free to get in and you dont need a ticket, just need to turn up and purchase some of lovely goodies.
Already we have some reviews of the launch night:
"The place was buzzing" – http://tandlemanbeerblog.blogspot.com/2011/06/yankee-doodle-dandy.html
"Events like this should be embraced in drinking establishments up and down the country" – http://inthefridges.wordpress.com/2011/06/29/port-street-beer-house-american-beer-festival/
"The curious, the interested, the scholarly and the disquisitive were all there" – http://tysonsbeerblog.blogspot.com/2011/06/american-beer-tastingpsbh.html
American Beer Festival (stock list)
Draft:
Ommegang BPA
Sierra Nevada Stout
Odell IPA
Odell Cutthroat Porter
Great Divide Espresso Oak Aged Yeti
Flying Dog Snake Dog IPA
Goose Island IPA
400 Pound Monkey
Left Hand Milk Stout
Cask:
Sierra Nevada Torpedo
Darkstar American Pale
Blueball American Wheat
Kirskstall Black Band Porter
Summerwine Nerotype no.4
Brewdog Alice Porter
Magic Rock Dark Arts
Bottles and Cans:
A selection of Maui cans
Flying Dog Road Dog Porter
Left Hand Fade to Black
Left Hand Imperial Stout
Left Hand 400 Pound Monkey
Great Divide Titan IPA
Great Divide Yeti Imp Stout
Great Divide Hercules
Great Divide Grand Cru
Great Divide Espresso Aged Yeti Aged Imp Stout
Goose Island Demolition
Ommegang Hennepin
Ommegang Rare Vos
Ommegang Abbey Dubbel
Ommegang Three Philosphers Quadrupel
Coming later this week:
Stone
Coronado
Kona
Sudwerk
Uinta
Victory
Some lovely photos :