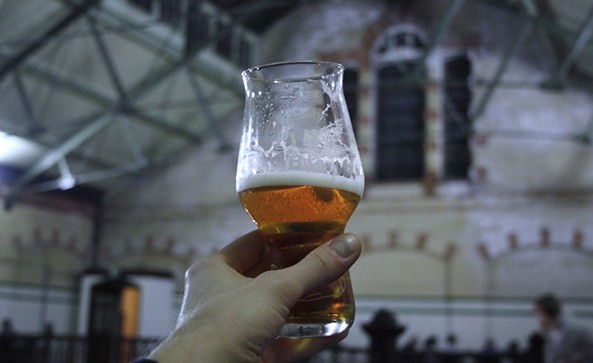 It's safe to say that the Independent Manchester Beer Convention (now in its fourth year) has outgrown it's humble, hush-hush beginnings, if it ever were that…The hallowed Saturday evening session sold out in something like 6 seconds, or hours, whatever. It's now become the UK beer festival to go to for many reasons: the fantastic array of the best of the best British breweries (and a handful of European and US); stunning street food and snacks (good to see the cheese boards return); the gorgeous grade II listed Victoria Swimming Baths. Go on, pick one? Oh you need more…
Well, how about the one-off collaboration brews that the Indy Man team participated in with a handful of British beer barons, concocted especially for the event? I opt for IMBC's pairing with Weird Beard and Norway's Lervig which yielded The Frog is Fired (5%). It's a delightfully sharp and florally refreshing start to the proceedings – though not as spectacular as last years Hacienda. I gallivant through the elegant rooms of the baths with childish glee, attempting to locate my favourites, finding Beavertown (St. Clement Sour – 4.5%), Cloudwater (BA Sour Cherries – 6.5%) and Brew By Numbers (16|04 Red Ale – 6.5%) along the way. BBNo. inch it with their Red Ale with Chocolate and Coffee tasting as velvety soft and delicious as I'd hoped.
The live online beer list doesn't seem to be fully functioning, which is a shame. There was pleasure to be had in scouting the rooms for ones next tipple but I definitely would take the tried-and-tested paper list any day. The bright and airy Pineapple room is hosted by Manchester newbies Cloudwater and they've brewed up a storm for the weekend. Their Sour White and Yellow Peach (5.8%) aged in Sherry barrels shows a depth and experience which belies their youth, having only served their first beer in March of this very year. They also provided this years stunning glassware, so three cheers for those beauties!
Time for another collaboration but this time in snack form and Worksop-based Karkli have teamed with those Weird Beard dudes (get around a bit don't they?) for a beer meets Lemon and Ginger twist on their traditional Indian snack. It's milder than their usual produce and teams really well with Space Phantom (3.7%); Beavertown's Berliner Weisse, hopped to the end of the universe and back with Galaxy.
My following beers take me back to a more simple time with Burning Sky's Flanders Red (6%) and Buxton's Old World Saison (5.8%). Before I'm fully submerged in the past and donning robes, sandals and yielding a pitchfork (yes, a farming monk) I take a trip to the dark side with Left Handed Giant & Beavertown's Sour Belgian Porter (6.8%), which tastes something along the lines of a boozy Black Forest Gateau stuffed with Haribo Tangfastics – damn, I love this festival!
It's at this point where food is needed and to bring me back into a very British reality I select the Mince and Onion Pie by Great North Pie and a traditional Fish and Chips by Fish&. The pie is succulent and rich, the battered cod is light and crispy, and I am one satisfied gentleman.
My next wander takes me to Room 1 where I unearth Celt brewery's Bleddyn AP Brett (5.9%), which tastes like Orval's little brethren. It's pretty decent even in Orval's shadow but then Atom Brewing get all unstable and unleash bottles of their porter Dark Alchemy (4.9%), delivering free splashes to your nearest receptacle. I collide mine with a drop of Bleddyn Brett and fuse a superheavy, rich and funky delight. I'm like some sort-a genius…
I sampled plenty of other great beers including Beavertown's BA Moosefang (9%), which was initially too cold and would have benefitted from being served on cask, as when it warmed up the magic truly began. But my favourite of the proceedings was recommended to me by a representative from the NZ Collective bar whose tantalising tip-off of Cromarty Brewing's Udder Madness (1.6%) was too intriguing to resist. A vanilla milk sour which tasted like a cream soda. Or more like a dream soda! I could have drunk it all night but instead I went home. Because I was drunk.
Of course the party didn't end there, I took full advantage of the ingenious take away canning service provided by WeCan. This proved a great way to either take home your favourite find from the event or grab something that you didn't get round to nursing. I boosted my beer count with Elgood's lip-smacking Lambic, Coolship Fruit (5%), Tuatara's juicy IPA, Hapi Nui (7%) and Magic Rock's succulent hop-bomb, High Wire Grapefruit (5.5%).
And just like that it's all over and we have to wait another year for what feels like the most significant annual event in my calendar. We're talking better than Easter and Christmas rolled into one. Yep. See you in 2016 then…
—
Check out Cameron Steward's excellent blog, All You Need Is Beer. Thanks for the write up, Cameron!