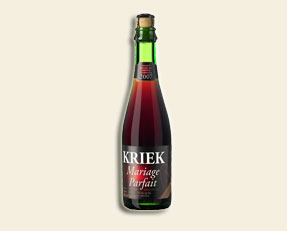 Consists of one year-old heavy lambic flavoured with overripe cherries. Longer ageing in small oak barrels gives it its special flavour.
Its flavour is entirely dedicated to the cherry. Agreeably sweet with a fruity bouquet but sour edge, this drinks easy.
Kriek lambic blend . A classic example of the style with a lot of fruit content of freshly harvested cherries. Frank Boon Kriek is conditioned in wood over a winter.